March 17, 2016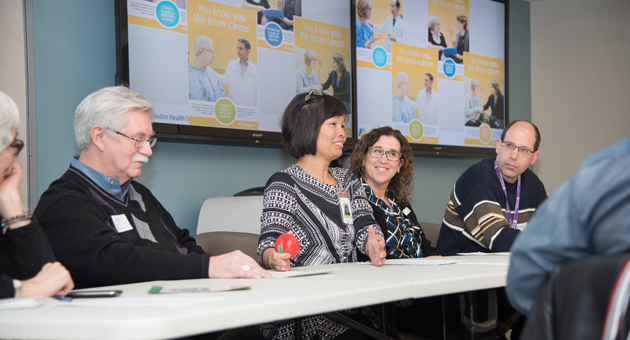 London Regional Cancer Program patient advisors Don Park and Marinette Laureano highlight their council's achievements during panel presentations on January 30 at Victoria Hospital.  Jill Smith and patient advisor Dan Belliveau from Emergency Department Patient and Family Advisory Council also pictured.

Of all the possible motivations, Lyn Cooper had a very simple reason to pursue a role as a patient advisor with LHSC. "I fell in love with the idea of somebody caring what I might think and wanting to listen," she said.
That message was powerfully reinforced for Cooper on Saturday, January 30, 2016, at Victoria Hospital, as she received her first introduction to the advisor program by attending the annual Patient and Family Advisor Orientation and Networking Event.
She was one of 16 new members among the 65 people in attendance, a crowd that also included LHSC leaders and team members, as well as many experienced patient advisors. 
A volunteer role, patient and family advisors influence hospital decisions by providing the patient and family perspective across a wide range of hospital initiatives, programs, services and policies.
The event featured engaging speeches from patient advisor Jeff Preston and Dr. Peter Blake, medical director of the Ontario Renal Network, both of whom underscored the value of patient and family- centered care and the vast contributions realized when patients are acknowledged as full partners in all aspects of care.
With a personal history and background of initiating discussions about mental wellness, Cooper was approached about becoming a patient advisor with a focus on mental health issues, as well as her experiences in the LHSC Emergency Department.
"I recognize the importance of that role, to represent a somewhat marginalized group, and I feel up to the challenge. It's an honour and I feel excited to influence that area of care, which is long overdue to hear from the patient voice in this way," said Cooper, who was buoyed by the energy displayed by those at the event.
"It was just so valuable to see this group of people who were so interested in hearing our stories and the level of passion that they brought with them to the room.  It feels awesome to be respected and valued, and welcomed into this process," she said.
"Hearing about the work that has already been done and the plans for the future, it really felt not only important, but also effective. I just left feeling satisfied that real results were possible."
The session also included group discussions designed to help advisors maximize effectiveness in their roles, as well as panel presentations that highlighted accomplishments of individual Patient and Family Advisory Councils (PFAC), including those at Children's Hospital, London Regional Cancer Program, Renal Regional Program, and the Emergency Department.
In addition to welcoming new advisors, the program has also experienced significant expansion at the departmental level with the recent development of PFACs for ICU, Cardiac Care, and Orthopedic Inpatient Unit.
For staff members, the momentum was palpable — both at the event and across the advisor program as a whole.
"To see so many advisors here — they came out in droves — was heartening and I think everybody walked away with something that resonated for them," said Karen Pierre, an LHSC Patient Experience Specialist.
"I was very impressed to see leadership there and I think for our advisors to see that as well, to see how the leaders and staff are invested in it, was wonderful. The underlying aspect was to highlight the idea of care versus caring and I think it was obvious how much caring there was in that room."