Family Doctor Week in Canada runs Nov. 7 – 12. This week acknowledges the care provided to Canadians by family doctors to improve the health and wellbeing of their patients.
November 8, 2016

Traditionally, family physicians are perceived to be based in the community, providing care to patients of all ages. When a health condition arises that requires care from another specialist, they help to coordinate that care – often provided in a hospital setting. 
And while they will continue to treat patients long after a specialist has discharged them, family physicians are not commonly associated with hospitals and acute care, even though their expertise about their patients can be a critical factor in health outcomes. 
Recognizing the important role family physicians play in patient care, the Citywide Department of Family Medicine at LHSC and St. Joseph's Health Care London is working to implement strategies to bring family physicians back into the hospital care setting.
"Over the years, there's been a gradual shift that has seen family doctors pulling away from acute care," says Dr. Stephen Wetmore, Chair/Chief of the Citywide Department of Family Medicine. "But evidence shows that continuity of care from a family doctor, including when the patient is in hospital, improves health outcomes."
The Department of Family Medicine has started a pilot project to bring family physicians back into the hospital, where they can choose to be designated the "Most Responsible Physician" for their own patients while they're in hospital on subacute care. This is possible because while many family physicians in London (more than 190) have hospital admitting privileges, largely they have not used these due to gradual loss of family medicine beds in the hospital.
As part of a 6-month pilot project that began in August, family physicians of patients who are transferred to the Subacute Medicine Unit (SAMU) at LHSC's University Hospital are contacted if they have admitting privileges and asked if they want to be the Most Responsible Physician (MRP) for their patient. 
As MRP, he or she will round regularly, provide orders, be responsible for the care provided, and complete the discharge summary when the patient is discharged. Family doctors acting as MRP are covered on evenings and weekends by existing after-hours support already in place at the hospital (including hospitalists and community physicians who are part of a rotating on-call group).
"It's hoped that this program will give family doctors an additional opportunity for continuity of care with their patients, and maintain their clinical skills in hospital care," says Dr. Wetmore.
In addition to the MRP pilot project, the hospital — in consultation with family physicians — is implementing additional strategies to help improve continuity of care between hospital and family doctors. 
One strategy involves sending family doctors a hospital discharge summary as soon as it has been dictated so that when patients visit their family doctor, he or she has a more comprehensive understanding of their hospital stay, including medications. In the past discharge summaries arrived late or not at all so family doctors had no knowledge about the patient's hospital stay.
Family medicine obstetrics has also seen a resurgence in recent years. The number of family physicians doing deliveries had been declining until recently.
"In the last few years we've seen new graduate family physicians who are trained in Family Medicine Obstetrics coming onto the list of physicians with admitting privileges," says Dr. Wetmore. This is due primarily to additional obstetrical training in a third-year enhanced skills residency program and exposure to good role models during training.
There is a call group that allows these family physicians to work together in getting after-hour supports, so they are not expected to be available at all times for obstetrical deliveries of their patients. The hospital also has an obstetrical clinic twice a week for patients without a family physician. This clinic is covered by a small group of family physicians.
The Continuing Care to Home initiative is a joint project between specialists and family physicians. Patients with Chronic Obstructive Pulmonary Disease (COPD) are managed collaboratively to improve their transition from hospital to home. Care is provided by a specialist, the family doctor, as well as a nurse navigator who helps a patient navigate their appointments and a PSW who monitors patient vitals right in their home. There is increased attention to their care in the critical period just after discharge to try and prevent readmission to hospital.
"These are patients who are often high users of the system, so this project helps to reduce re-admission to hospital and allows them to be monitored and cared for from their homes," says Dr. Wetmore. 
"All of these projects are important," says Dr. Wetmore. "By allowing the family doctor to stay involved with their patient's care – even while they are in hospital – these projects are helping to improve health outcomes for patients."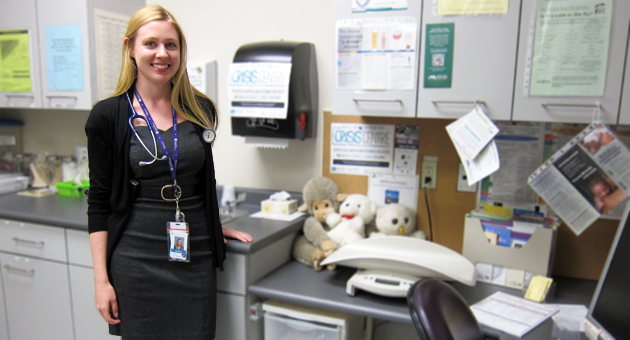 Dr. Robyn Moxley is a family physician at LHSC. With admitting privileges to the hospital, Dr. Moxley delivers babies in hospital, will care for babies while they are still in hospital, and provides pre- and post-natal care to patients at the Victoria Family Medical Centre.