May 7, 2012
London Health Sciences Centre (LHSC) is pleased to celebrate North American Occupational Safety and Health (NAOSH) week. It is a chance for people at LHSC to learn more about how we can reduce staff injuries and illnesses in our workplace, at home and in the community.
In celebration of the May 6-10 event, display booths at both University and Victoria Hospitals will highlight important aspects of safety and health in the workplace, including how to use our adverse event management system, proper respiratory fit-testing practices and much more. As an additional bonus, there'll also be general tips that people can apply outside of the workplace, such as how to be prepared for an emergency.
Last year's theme for the annual awareness week was "What's your plan?" This year, the theme is "Safety and health: a commitment for life. Making it work!" There are many simple things that we do everyday to make safety and health work at LHSC. The following video demonstrates just some of the numerous ways that we hold one another accountable for ensuring safe practices at work.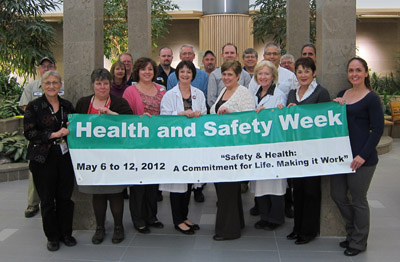 LHSC staff announce the theme for this year's NAOSH week in the zone B atrium at Victoria Hospital.