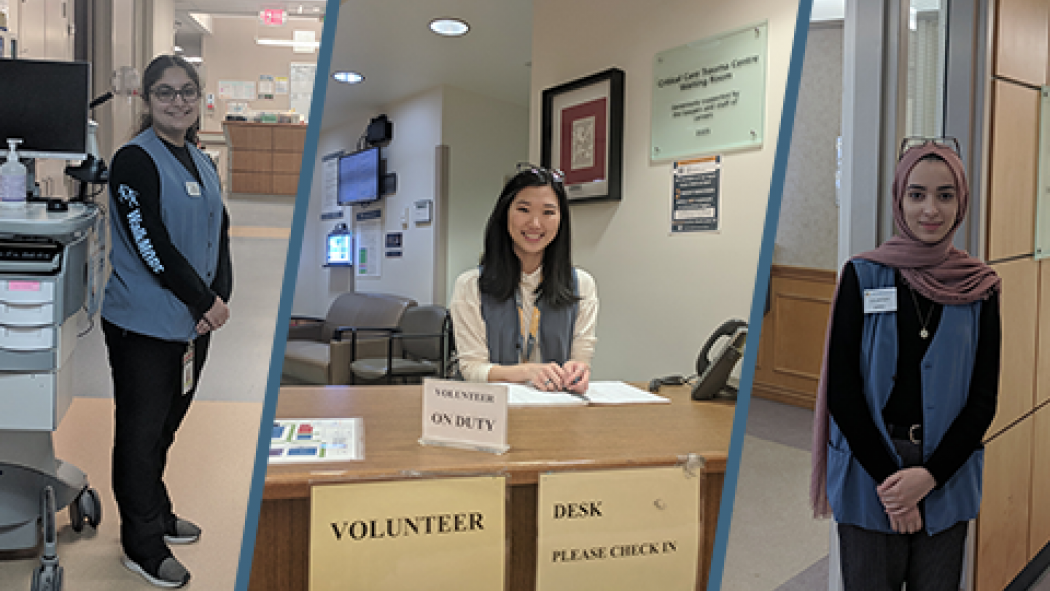 April 8, 2019
April 7- 13, 2019 is National Volunteer Week and the recognition is well deserved for the nearly 900 individuals who donate their time to help others at London Health Sciences Centre (LHSC). This year, three LHSC student volunteers will receive long service award pins for providing five years of service.
LHSC is proud to provide an opportunity to engage our student demographic in meaningful volunteer experiences; experiences that help shape them for their future. Many student volunteers return to LHSC as staff and physicians delivering on LHSC's Vision of "Working together to shape the future of health."
Student volunteers Sarah Treesh, Elisa Yoo, and Daad Kassem share a common passion for helping others. "I'm thankful for the commitment of our student volunteers," says Meaghan Innes, Manager, Volunteer Services, LHSC. "Our student volunteers enrich our organization through their interactions with staff and patients."
Sarah Treesh
Treesh is a current third year student at Brescia University College, studying Nutrition and Dietetics, but began her volunteer career at LHSC when she was 16 years old. "LHSC Volunteer Services were very generous in providing me with my first professional workplace experience," says Treesh. "The fruit of my labour is seeing the smiles on patient and staff faces when I can provide help."
Volunteering every week at University Hospital's Pre-Admission Clinic, Treesh feels part of the community and her experiences have formed her career path. "LHSC is like my second home. I'm honoured to be serving for so long, and thankful for the caring staff who have influenced me and helped me grow."
One of her most memorable, and rewarding experiences, was using her bilingual-skills to help a non-English speaking mother and her hearing impaired son find their appointment location.
Elisa Yoo
Elisa Yoo is finishing her studies in Medical Sciences and Biology at Western University and will continue to pursue a career in healthcare. Yoo began volunteering at Children's Hospital at LHSC in the summer of grade 12. "I wanted to become involved in the community, and to experience working in a hospital setting. I'm appreciative of the different areas and many opportunities I've had as a volunteer working in a teaching hospital," she elaborates.
During her time volunteering in Children's Hospital, she enjoyed spending time with inpatients in the craft room, interacting with them, but also helping them interact with each other. She recalls an experience of playing PlayStation with the older teenagers to better relate on their level.
She translated her paediatric volunteer experience into a research work experience on retrospective cohort studies of paediatric renal transplant patients that has led to the publication of five papers under the tutelage of Dr. Guido Filler.
Yoo currently volunteers in the waiting room of the Critical Care Trauma Centre, a higher intensity and emotional environment. "I'm a liaison for families and visitors with the staff. I put myself in their shoes and try to meet their needs, even if it's finding a quiet place for them or bringing them some water," she says.
Daad Kassem
Kassem began volunteering at LHSC when she was 16, studies health sciences and will be graduating in the Spring from Western University with a goal towards a career in public health and health promotion. Her volunteer experience has provided exposure to the practice of medicine, different occupational fields, and how different units operate.
Kassem began as a guide at Victoria Hospital, and now volunteers as a "coach" with the WalkMORE program, an initiative at LHSC's University Hospital within the Medicine Department for patients who are admitted to hospital and not receiving physiotherapy as part of their treatment. She helps patients avoid deconditioning by walking with them while having a conversation during their hospital stay. "Part of my role includes helping convince patients to walk and I've learned some motivational techniques as a result," she explains. "During our walks I regularly check-in with them to make sure they are doing well."
Kassem is driven by passion for helping others. "A brief interaction can change the perspective of a patient, and make their day a little easier. It's wonderful to see them smile; you can see the positive impact you are making," she says.