August 2, 2018
Patients, families, volunteers and employees celebrated Patient Experience Week (PX Week) June 18 -22 throughout LHSC. Throughout the week, members of the patient experience team alongside patient and family advisors dedicated their time to recognize the staff and physicians who work to improve the patient and family experience, and to promote awareness of the positive impact that these efforts have on care at LHSC.
The week began with a panel discussion at Patient Safety & Quality Rounds, titled "Partnering with our patients and families: engaging advisors in quality improvement" aimed to inform staff and physicians of the roles a patient and family advisor can play and illustrate their involvement in quality initiatives. Dr. Paul Woods, President and CEO, LHSC, welcomed the three patient and family advisors along with three staff members who worked with the advisors. They shared examples of collaboration such as the improvement of care pathways, implementation of communication boards, and redesign of a waiting room to meet the needs of patients.
Each morning, members of the patient experience team alongside patient and family advisors were stationed at various entrances to greet patients and their families, visitors, staff and physicians. They were then stationed at patient experience booths at Victoria Hospital, University Hospital, London Regional Cancer Program, and the Westmount Kidney Care Centre to spread the word about the opportunities to become involved with LHSC through the role of a patient or family advisor.
On June 19, the Patient Experience Mobile Carts, filled with treats, inspirational words, and more, offered a kind distraction for patients and families in waiting rooms and high traffic areas at VH and UH with a token of gratitude for volunteers and staff. PX Week also included group wellness walks throughout VH and UH led by LHSC's Fitness Program.
Please view LHSC's Facebook page for more photos.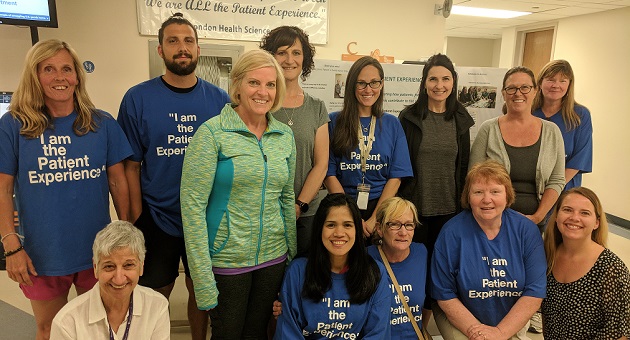 LHSC's Fitness Program led a group wellness walk at University Hospital during Patient Experience Week.