May 17, 2012
May is National Physiotherapy Month and LHSC's physiotherapy team would like to highlight some interesting information about our physiotherapists (PTs) and our physiotherapy profession.
Here are the stories of five of our PTs who collectively have more than 150 years experience practicing physiotherapy. They have been involved in pioneering and advancing the role of physiotherapy within a variety of clinical areas including burns, cancer care, clinical neurosciences, and renal care.
They have all made significant contributions to the profession of physiotherapy as clinicians, educators, patient-care advocates and researchers.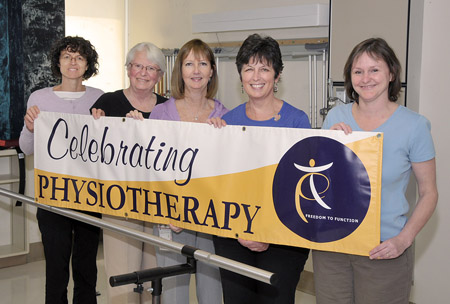 Gwen St. John
Gwen St. John is a team member with the burn/plastics service at LHSC's Victoria Hospital. She develops intensive programs for contracture prevention and scar management which are required throughout patients' lengthy recovery period. Gwen was a founding member of Camp Bucko, established in 1995, which is the only camp for children with burns in Ontario.
Claire Brooks and Pam Duerden
Claire Brooks and Pam Duerden work within the cancer care program. They provide an annual lecture to the physical therapy students at Western University about physiotherapy and cancer care and have seen the role of PT and the patient population change significantly over the years.
Karen Findlater
Karen Findlater works in the clinical neurosciences program at LHSC's University Hospital, where she helps to manage the care of patients with facial nerve palsies and vestibular disorders. She provides patients with comprehensive education about their disorder and develops home exercise programs that allow patients to achieve maximum recovery.  She is also a longstanding member of the ALS clinic team.
Cathy Anderson
Cathy Anderson, physiotherapy clinical specialist, has been involved in research in the areas of evaluating research (systematic reviews), head and neck cancer, deep vein thrombosis and patient safety. She has received a number of Silver Quill Awards from the Canadian Physiotherapy Association as well the Ontario Physiotherapy Association Research Award.
About the physiotherapy profession
The introduction of physiotherapy to Canada's health care system can be traced back to major historical events that helped to shape our country. Physiotherapists (PTs) made their early mark in Canada during the two world wars when they were recruited in large numbers to treat injured soldiers. During the time of the polio epidemic, the numbers of PTs across Canada increased dramatically. Today, physiotherapy is a dynamic and innovative profession with significant diversity in the skills and services provided.
Physiotherapy staff work in a variety of settings including hospitals, clinics, health centres, community and academic institutions. They work within interprofessional teams and in independent practice settings to improve their patients' functional independence and physical performance.
On Sept. 1, 2011 a number of changes to the Physiotherapy Act came into effect. This represented an exciting and long-awaited advance for the physiotherapy profession in Ontario as it allowed PTs to use their competencies to the fullest in the service of their patients and Ontario's health care delivery system.
The legislative changes included an updated scope of practice statement that adds communication of a diagnosis related to injury, pain, physical disorder or dysfunction within the scope of physiotherapy and a restructured emphasis on a systems approach – cardiorespiratory, neurological and/or musculoskeletal assessment and diagnosis. Today, PTs have authorized activities which include treating a wound below the dermis, assessing or rehabilitating pelvic musculature and administering a substance by inhalation.
The recent changes to the PT profession were made to not only improve the patient experience, but also to increase the efficiency of treatment as that will in-turn positively impact the overall health care system. Additional changes in authorized activities granted to PTs are forthcoming.
Patients with conditions that have a long-term impact on their health are not only affected physically, but also emotionally and psychosocially. With a patient's independence in mind, a PT's goal is to restore, maintain and maximize strength, function, movement and overall wellbeing.
LHSC's PTs regularly participate in support groups, community events and research studies to continue to promote and improve upon the effect that physiotherapy has on their patients.