One LHSC patient shares her life-changing experience
March 26, 2013
The London Health Sciences Centre (LHSC) Epilepsy Program is widely recognized for its groundbreaking work in the management of epilepsy, including epilepsy surgery.  In addition to performing over 5000 surgeries since 1974, the eight bed epilepsy monitoring unit - used to aid diagnosis and evaluate patients for surgery or other treatment methods - remains the largest in the country.
Karen Fisher, a patient from Ottawa, Ontario credits the program with more than just helping her with her epilepsy. "How do you thank someone who saved your life? Because that's what the program did. Without the team at LHSC's University Hospital, I know that I would not be here today," says Fisher when asked how her surgery impacted her. "I had no life with my seizures. I coped, but there was no quality of life."
Fisher suffered her first seizure at 11 months of age, following a bout with red measles and chicken pox simultaneously. At age five, she was formally diagnosed with epilepsy. What followed were more than thirty years of seizures, over twenty drug trials and countless changes to medications and dosages, all to no avail. Fisher's condition was categorized as intractable epilepsy – meaning medications were unable to successfully control her seizures.
"I knew that surgery was an option for some people, but I didn't know if I was a candidate, so I started researching hospitals in Canada that were performing it", says Fisher. "I decided to drive to London to check out LHSC, and it is the best decision I could have made. I knew the moment I met the team that I was in good hands, and I was right!"
Karen designed a t-shirt to forever remember the day that changed her life.
Fisher was admitted to the epilepsy monitoring unit where specialists watched her seizure patterns over a number of days. Continuous monitoring through electrodes detects seizure activity, even while the patient is sleeping, and pinpoints their origin in the brain as they happen. This observation was vital in determining that Fisher was, indeed, a candidate for a temporal lobectomy.
"We know that for 70 percent of patients, medications are able to control seizures in patients to an acceptable level. For the remaining 30 percent, we need to examine whether surgery would be beneficial in slowing or stopping seizures. Ms. Fisher was deemed to be a suitable candidate, and we could not be more pleased with the results she has seen", said LHSC neurosurgeon Dr. David Steven, who operated on Fisher. "It has been over four and a half years, and there has not been a return in her seizure activity. I do not think we could have asked for a better outcome."
Since the surgery, Fisher has returned to work as a Certified General Accountant, and has become a vocal advocate for epilepsy awareness in her region. She has also written an autobiography entitled "My Life Time Roller Coaster Ride With Epilepsy", with proceeds going to LHSC's Epilepsy Program as well as her local epilepsy support agency. "I am fortunate that I can now look ahead to living the rest of my life the way I want to. If my story can give one person hope for the same future, then I owe it to them and to myself to help. I'm living proof that you can overcome anything."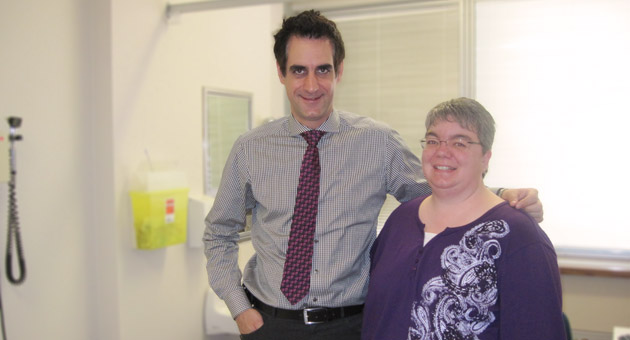 Karen Fisher with her "hero", Dr. David Steven.