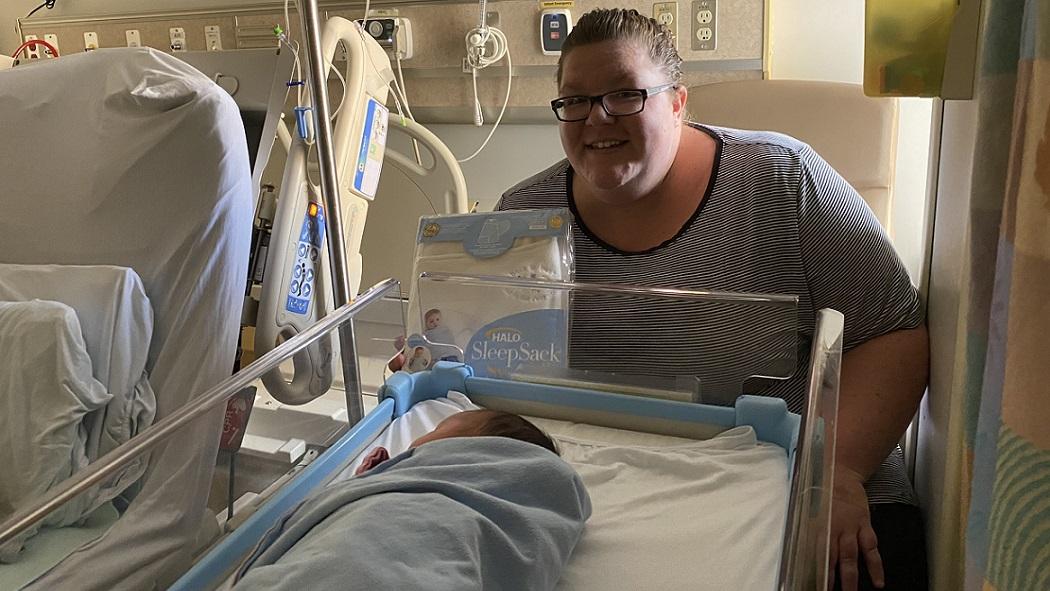 October 19, 2020
LHSC recognized as a Bronze Safe Sleep Hospital
This October, London Health Sciences Centre (LHSC), and patients and families in the Mother Baby Care Unit are celebrating Safe Sleep Month together.
"To raise awareness and promote infant safe sleep behaviours we have been giving away a sleep sack every day in October to families who place their infant in a safe sleep environment and follow the ABC's of safe sleep," says Kaitlyn Jacobs, Injury Prevention Associate, LHSC. The sleep sacks contain a 3-way swaddle which promotes self-soothing by allowing hands to be free and an embroidered "Back is Best" to remind caregivers to place baby in the recommended sleep position. They also feature an inverted zipper for easy diaper changes. "Funding for the sleep sacks has generously been provided by Children's Health Foundation."
Health Canada and the American Academy of Pediatrics (AAP) published statement policies outlining recommendations to reduce the risk and causation of stressors contributing to sleep-related infant death using the ABC's:
A: Infants should be put to sleep (whether for a nap or for the night) alone
B: Infants should be put to sleep on their backs
C: Infants should be put to sleep in their own crib
This safe sleep month, LHSC has also become only the first hospital in Ontario, and only the second in Canada to be certified as a Bronze Safe Sleep Hospital by Cribs for Kids. "A large reason for our designation was the introduction of our Safe Infant Sleep Policy, which outlines safe sleep practices and encourages families to model the behavior they witness in hospital," says Jacobs. "The policy reflects best practice guidelines recommended by the Canadian Pediatric Society, Health Canada, and the American Academy of Pediatrics about sleep surface, positioning, and external risk factors to decrease the incidence of Sudden Unexpected Infant Death (SUID)."
As a Bronze Safe Sleep Hospital, the hospital is expected to continually perform at this certified level, including:
Onboarding and ongoing training of the healthcare team members according to the submitted Infant Safe Sleep Policy
Education of parents, guardians, and other caregivers
Work in conjunction with appropriate departments to ensure images depicting unsafe infant sleep or sleep environments are not used in hospital's social media, marketing campaigns, on site artwork/photos
Submit an annual report confirming continued Infant Safe Sleep certified practices
"Since our policy and program have launched we've seen an 18 per cent improvement in infants being placed in a safe sleep environment, we went from 6.5 per cent of infants sleeping in a caregiver's bed to less than one per cent, and we went from 65 per cent of cribs having blankets/loose items to only 20 per cent," Jacobs humbly brags.