March 6, 2018

This week, March 5-11, 2018, marks Social Work Week, recognized by the Ontario Association of Social Workers. At LHSC, it provides an opportunity to highlight the important and valuable role that social workers play within the health-care team.
"I don't think people realize how involved social work is in the planning and support for our patients," says Lisa Higgins, Manager of Social Work at LHSC. "I'm confident our clinical teams would say that they can't provide the same level of care without social work."
There are approximately 100 social workers providing care across LHSC, in areas including medicine, cardiac care, transplant, critical care, emergency care, clinical neurosciences, women's care, family medicine, palliative care, surgical care, renal, cancer care and mental health. Their care also extends beyond the hospital's walls to support patients at off-hospital locations such as the Kidney Care Centre at Westmount Shopping Centre, First Episode Mood and Anxiety Program, and the Adult Eating Disorders Service on Riverview Ave.
How can social workers help?
As members of the health-care team, social workers are committed to addressing a wide variety of patient and family needs. With a specialty in counseling, they understand that factors such as social supports, income, housing, employment, gender and culture are closely connected to a patient's wellbeing. 
Social workers at LHSC provide assessments, counseling, information, and education. Some of the ways they can help include:
Counselling patients and families as they adjust to changes that may result from diagnosis, illness or hospitalization
Addressing grief, stress or conflict
Preparing for admission to, or discharge from, hospital or outpatient programs or treatment
Organizing family meetings or case conferences
Connecting to services provided by the hospital and the community
Supporting families to obtain financial assistance, accommodation or home support services
Assisting families to connect to health education and support groups
Helping to make sure patients voices are heard as part of their treatment team.
"I hear over and over from patients that the number one aspect they appreciate most about their social worker is how kind, compassionate and patient they are. They feel supported while they're in hospital, and having someone help them navigate the hospital system can help alleviate the stress of being in hospital, so they can focus on their healing and wellness," says Higgins.
Education and research 
As an academic health sciences centre, LHSC's Social Work team is also involved in a lot of research and education, providing field instruction to social work interns and training medical residents, nursing students, and other health professionals.
"Being part of a teaching facility really does require us to go beyond clinical patient care," says Higgins, who notes that hospital-based practicums for social work interns are longer than average, at 4 to 6 months. "That's an intensive level of mentorship and training," notes Higgins.
LHSC is currently hosting 14 social work interns who are completing full-time placements from January to April as part of their masters of social work training. 
"As a student cohort, we have been placed in a variety of settings within the hospital. We have been provided with unique learning opportunities that allow us to shadow social workers and learn about their role at LHSC," say Cassandra Di Pompeo and Alicia VanderSpek, two social work interns.
"We appreciate the ability to gain a deeper understanding of social work within a professional setting, especially when working within a multi-disciplinary team."
In addition to clinical work and teaching LHSC's social workers are also active contributors to create change at the system level. "People may not realize the important role that our social workers play in partnering with others outside of the hospital," says Higgins. 
"We participate in a lot of advocacy at the community and system level, sitting on a number of committees and task forces. We are committed to improving the system with better ways to support clients and families." 
When would it be helpful to talk to a social worker?
People often talk to social work when they are concerned about:
Adjusting to illness and treatment
Feelings of depression or anxiety
Relationship and family issues
Their children and their adjustment to illness
Grief and loss
Issues related to physical, emotional and sexual abuse
Stress reduction, relaxation techniques
Parenting issues
Communicating effectively with their health-care team in order to make good decisions
Advance Care Planning (Power of Attorney; expressing values, wishes)
Making arrangements for care at home or in an alternative living situation
Accessing community support services
Social workers are available to every patient and family at London Health Sciences Centre. Ask any member of your health-care team to make a referral or call the Social Work office at 519-663-3131.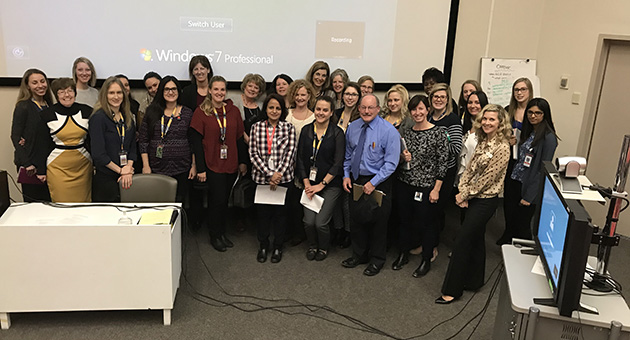 Members of the Social Work team at LHSC gather to celebrate Social Work Week, March 5-11, recognized by the Ontario Association of Social Workers.