October 3, 2012
LHSC is pleased to announce it has officially kicked off its annual employee United Way Campaign.
Perhaps no other organization is more focused on community well-being than the United Way, which provides funding that supports critical services to address the major issues of poverty, mental health, and those facing beginnings or transitions in their lives. Through the vast array of services it supports, the United Way helps create a healthier community, something near and dear to our hearts as health care providers.
With the economic downturn of the past few years, the need for community supports has never been greater. With a strong legacy of giving back to the community, LHSC is proud to partner with the United Way of London & Middlesex to demonstrate how our care and compassion extend beyond our hospital doors.
Together we are working to create real and lasting change in people's lives throughout our community - just like we do each and every day for patients at London Health Sciences Centre.
For more photos from campaign the kick off, visit LHSC's Facebook page.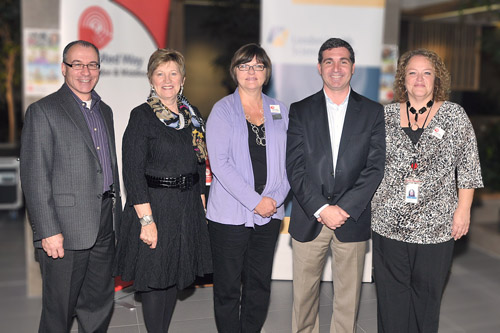 From left: Executive Sponsor Tony LaRocca, LHSC President and CEO Bonnie Adamson, LHSC Sponsored Employee Liz Crowley, United Way CEO Andrew Locke, and campaign chair Geraldina Meriano helped to officially launch LHSC's United Way Campaign at a kick-off celebration on Oct. 2.