March 11, 2016

You can always hear Karina Charczuk coming.
An Accredited Music Therapist at Children's Hospital, London Health Sciences Centre, Charczuk pulls a cart piled high with musical instruments including chimes, handbells, a xylophone, drums, shakers, maracas, a ukulele and even a guitar.
"I come equipped for all of my sessions with a variety of instruments, and people always tell me they can hear the chimes ding and drums rattle as I walk through the halls!" says Charczuk, who joined the Children's Hospital team in January 2015 as the hospital's first music therapist. Both the role and program are funded by Children's Health Foundation who also provides support for the Child Life and Art Therapy programs.
March is Music Therapy Awareness Month, promoting how music and musical elements can be used to promote, maintain and restore mental, physical, and emotional health. "Music therapy is different from music education or entertainment because it's focus is on health, wellbeing, and quality of life," says Charczuk.
Music therapy uses music in a variety of ways. Specifically in paediatrics, Charczuk works with all patient demographics at Children's Hospital (from neonatal infants to teenagers), using interventions that include listening to music, lyric analysis, songwriting, and playing instruments. 
"I'm constantly learning new music, because in music therapy it's important to use patient-preferred music," she says. A violinist by training, Charczuk's repertoire includes every genre imaginable including country, hip-hop, 60s rock, children's songs and pop. She learns how to sing these songs and to play them on a variety of instruments including the guitar.
Three-year-old Dylan Kittmer, an inpatient at Children's Hospital for the past 60 days, has benefitted from his regular sessions with Charczuk where he gets to play a variety of instruments and sing along to children's songs with her. For some songs he has bells attached to his ankles along with handbells to shake, and for other songs he manipulates an "ocean drum" with tiny beads that replicate the sound of waves.
"He smiles constantly when Karina is here," says Dylan's mom, Karen. "When he's in session with her, he's interactive, which isn't always the case with everyone in the hospital. He's a social kid, so this therapy is important to help keep him social while he's here."
Music therapy helps patients to normalize the hospital environment, says Charczuk, because music is something that almost everybody interacts with on a daily basis. "So bringing the comfort of music into the hospital – which can be a scary place, especially for kids – can normalize the experience for them."
Charczuk says she uses a different approach for each patient—especially considering the range of ages she works with—and usually starts by asking what kinds of music they like. This is particularly important for older teenage patients, says Charczuk.
"For teens, music is the medium they interact with the most. They type of music they are drawn to is often a part of their identity." 
Through music therapy, Charczuk also provides procedural support, where musical activities are used to help distract young patients from what is going on – for example a young burn patient having a painful dressing change. Music therapy can be beneficial for patients with developmental delays, providing sensory stimulation and interaction. 
Ultimately, music therapy can provide the opportunity for choice and control. "A lot of the time, a patient has little control in the hospital environment," says Charczuk. "In my sessions, they get to choose what we will do together; the patient directs where the session will go."
Just as important to the musical element of her role is the therapeutic and counseling aspect to music therapy, Charczuk says. "The therapeutic relationship is extremely important; it's the foundation you create in order to use music to address therapeutic goals, so establishing that relationship is really important. 
"It depends on the patient how you establish that, but talking is as important as the music. And in some cases, the patient doesn't want any music, they just want to talk."
Charczuk holds a bachelors degrees in both music and psychology, as well as a masters of music therapy. She says music therapy was an ideal way to combine her passions for music and psychology, and she is humbled to have the opportunity to build the music therapy program at Children's Hospital.
Patients at Children's Hospital can access the Music Therapy program through referral, and family members can inquire with a staff member about the appropriateness of music therapy interventions during their stay in hospital. Visit the Children's Hospital website for more information.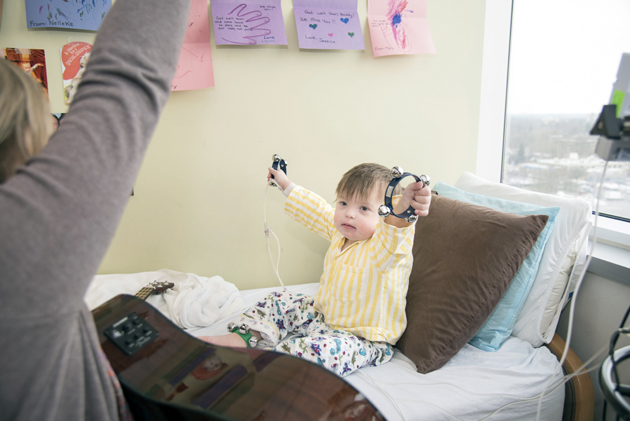 Three-year-old Dylan Kittmer moves his arms and legs to provide jingle-bell accompaniment to a song he sings with Accredited Music Therapist Karina Charczuk.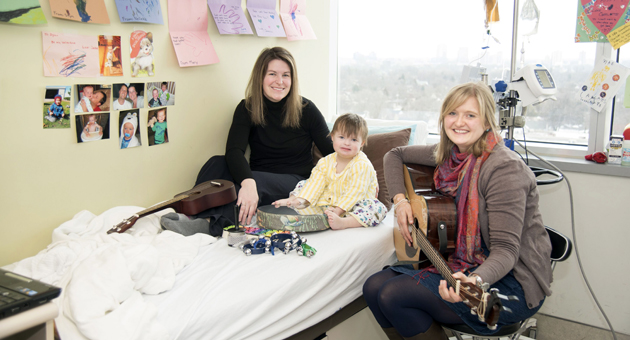 Three-year-old Dylan Kittmer and his mom Karen interact with music therapist Karina Charczuk (right) at one of their regular sessions while Dylan stays at LHSC's Children's Hospital.