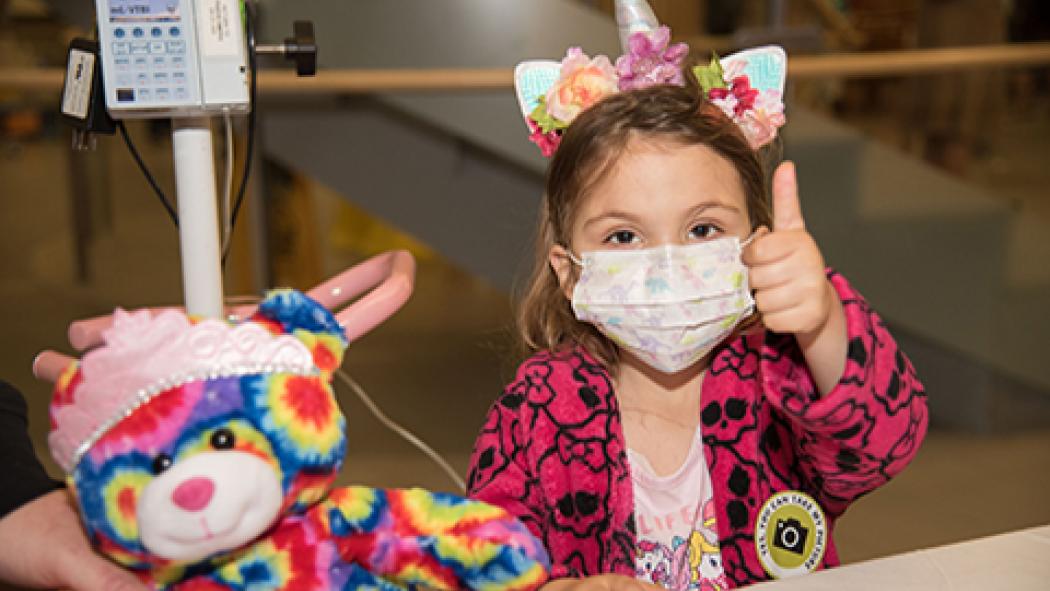 A day where paediatric patients can have fun and just be kids.
July 12, 2019
Volunteers, staff and physicians of Children's Hospital at London Health Sciences Centre joined together on June 19 to host the annual Teddy Bear Picnic. Hundreds of children who are either inpatients or current outpatients of the hospital and their families shared laughter, fun and food in the atrium of Victoria Hospital.
In addition to a delicious pizza lunch, families spent the afternoon interacting with Star Wars characters Rey and R2D2, building their own teddy bears, chatting with princesses and Ollie the Clown, as well as enjoying games, activity stations, and a performance by "The Tomato Soup Band".
As always the goal of the picnic is to create a memorable and celebratory experience for our patients and families. It provides patients and families with an opportunity to take a break from the hospital environment and connect with other families and front line care team members within a social setting that is outside of their routine medically-focused interactions, and we thank all staff and physicians for honouring this focus.
New this year was an environmental sustainability focus, where the picnic set the goal of creating zero waste from non-recyclable single use paper or plastic goods.
As with every year, the event wouldn't be possible without the generous support of the Children's Health Foundation and the following wonderful community sponsors:
Boston Pizza – Wellington Rd., London
Arts Council of East Lambton
Barb Weir Photography
Camp Ooch
Canadian Linen & Uniform Service
Dashing Balloons
Farm Boy – Wellington Rd. location
Heroically Ever After
Illbury and Goose
Let's Talk Science
London Fire Department
Ontario Provincial Police
Puppet Folk
Sarina Haggarty
TD Canada Trust
The Original Cakerie
Tomato Soup Band
More photos of the Teddy Bear Picnic are available on LHSC's Facebook page.