May 14, 2012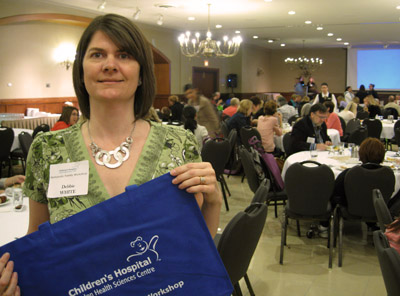 For Debbie White the Children's Hospital Metabolic Family Workshop provides an opportunity to gain more knowledge to support her daughter and to network with other parents.
More than 165 parents, children, grandparents and health care professionals from across Southwestern Ontario attended the ninth annual Children's HospitalMetabolic Family Workshop on May 11.
The workshop is organized by the Metabolic Team from the Genetics Program at Children's Hospital, London Health Sciences Centre and is proudly supported by Children's Health Foundation.
"The aim of the workshop is to educate families and health care providers about various aspects of metabolic conditions," says Dr. Chitra Prasad, Clinical Geneticist and Director of Metabolic clinic. "This is an opportunity for patients and families to network and make connections with others who have a family member or are themselves affected with metabolic disease."
The workshop provided a host of sessions on specific metabolic disorders and guest speakers including family presentations which were appreciated by all. Throughout the day and lunch, workshop participants interacted with the guest speakers, learned about different metabolic formulas and foods, visited displays and discovered ways to care for themselves and their families.
For Debbie White, whose six-year-old daughter has an extremely rare metabolic disease, the workshop provides an opportunity to gain more knowledge to support her daughter and to network with other parents. This year White, who also sits on the Family Advisory Council, participated in a panel discussion.
"At the workshop I get to meet others in a similar situation, so I feel I'm not alone, there are others walking the same path," says White. "I feel very strongly that parents learn from other parents."
Inherited metabolic disorders are genetic conditions that interfere with the body's metabolism of protein, fats and carbohydrates. These disorders affect many organs and can be complex.
Inherited metabolic disorders can occasionally be fatal. With recent advances in treatments, such as enzyme replacement and dietary therapies, the quality of life for individuals affected with metabolic disorders has significantly improved.
In addition, newborn screening has made an enormous impact on the prognosis of these disorders with early detection and intervention.