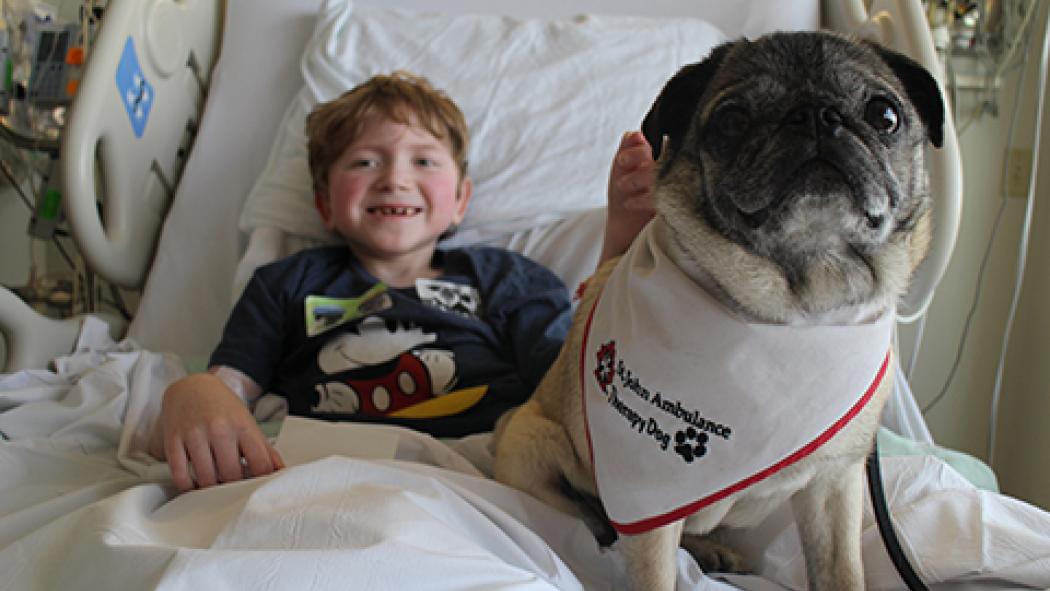 Children's Hospital patient Damien receives a visit from a therapeutic pug, as part of LHSC's pet therapy program
October 19, 2018
Pet therapy is a program designed to infuse the benefits of calming cheer during an inpatient stay, delivering often needed smiles to the faces of patients and their families. LHSC has partnered with St. John's Ambulance to offer pet therapy on certain inpatient units where the therapeutic benefits are expected to be significant to patients. After its success in a couple of adult units, the program was expanded to include visits on the paediatric inpatient unit.
Since May of this year, paediatric trained and approved therapeutic dogs Igor and Zombie have been visiting patients staying in Children's Hospital one afternoon each week. While it is often initially a surprise for many families to see the dogs in the hospital, most are quick to recognize the healing joy these pups bring to our young patients.
The therapeutic benefits of pet therapy vary by individual. For some children, it's an opportunity to encourage some light physical activity, while for others just the relaxing comfort of being with a dog helps to alleviate some of the stress or anxiety they feel about being in the hospital.
"It's been a delight to watch the program take root," says Amy Cooper, Coordinator, Children's Care at LHSC. "Feeling unwell and being in the hospital can leave anyone feeling stressed or anxious, especially for young children who aren't used to being away from home and their regular routines, and those feelings are not conducive to healing. It has been great to add pet therapy to our complement because it's another service that helps us to foster an overall supportive space for our patients, which we know contributes to better patient outcomes."
The benefits don't stop with just the patients they're visiting, as the dogs truly bring a joyful air to the entire unit.
Cooper adds, "It's hard to deny that the positive feelings are anything but contagious when the dogs are in. As staff we know there are therapeutic benefits for our patients, but getting to actually witness and take part in the joy these dogs bring, and the difference they make for our patients and families really establishes an uplifting tone for the day."
The introduction of the program to Children's Hospital was initiated as a "pet project" of LHSC's Child & Youth Advisory Council (CYAC). Made up of young people with diverse hospital experience, members of the CYAC knew from their own personal experience the value that animal companionship could bring to others in similar situations, so they teamed up with area leadership, the Patient and Family Centred Care team, Policy, Risk Management, and Infection Prevention and Control, to help make their vision of a paediatric pet therapy program become a reality.