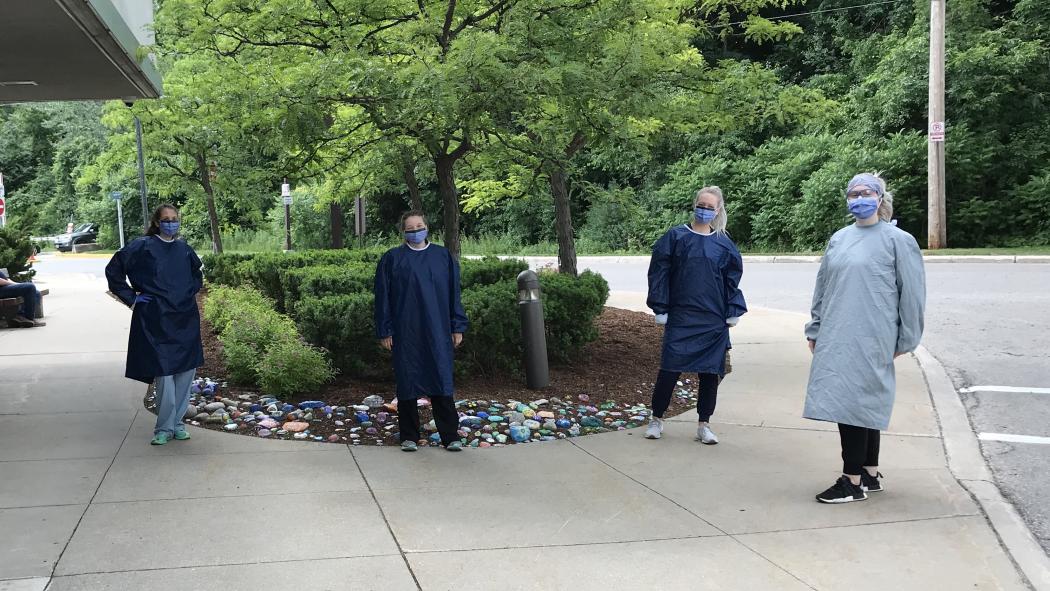 June 25, 2020
Emergency Services personnel at LHSC and St. Joseph's team up to support the community that's been supporting them
When the pandemic began, health-care providers from both London Health Sciences Centre (LHSC) and St. Joseph's Health Care London received an outpouring of support from the community. Much of this support came in the form of food donations for emergency and urgent care staff and physicians at LHSC's University Hospital and Victoria Hospital, and St. Joseph's Urgent Care Centre (UCC). To say thank you, the staff at these three locations have teamed up to raise over $7,500 for London Food Bank.

Katherine Yates, a registered nurse (RN) in the Emergency Department (ED) at LHSC was moved by all of the community support being shown to health care workers since the pandemic began.
"There's so many kind people and businesses who are constantly supporting us and giving us food donations or discounts. But we are lucky ones. We still have our jobs, with money coming in," says Yates.
Her colleague at St. Joseph's Urgent Care Centre felt a similar sense of gratitude. "Since the pandemic began, community support to the UCC team has been so fantastic we wanted to do something in return," says Olivia Hughes, RN. "It's been a time of much uncertainty and anxiety and the community outpouring and generosity has been a source of great encouragement for us to keep doing what we do."
When Yates saw a news piece about the impact the pandemic is having on food banks and their increased need, she knew she had to act. Yates spoke with Emergency Services Manager Elizabeth Baldassarre about organizing a fundraiser. She connected Yates with Chelle Rimell, a unit clerk at Victoria Hospital, and Karen Pierre, a social worker, at University Hospital's ED, who reached out to the London Food Bank to ask about the community's needs.
"They mentioned things like diapers but we really don't have the ability to store anything in the Emergency Department, and we felt that giving them cash would probably be the best to use where they need it most," explains Yates. The three-week fundraising campaign began at the end of April and ran until the week of May 14.
Chelle Rimell helped create a Go Fund Me page with their initial goal of $1,000. They sent emails to their colleagues in Emergency Services, which includes the two EDs and UCC.
"A number of staff work at the EDs and UCC, and helped us spread the word," says Yates. Dave Nother, a RN who also works at the UCC, started connecting with his colleagues there.
"We reached the first thousand quickly, so we raised it to $2,500, then $5,000 and finally $7,500. We surpassed that at $7,881," says Yates. She notes how everyone on the team at all sites, including physicians, unit clerks, housekeepers and nurses, all contributed and participated in the fundraising effort to support the community that has stepped up to support them.
"This shows the kindness of our team and the power of our team. As a team, we can do lots of things," says Yates.
The Emergency Services group is planning to team up again in support of Canadian Blood Services just in time for the summer months, when the need for blood is highest.