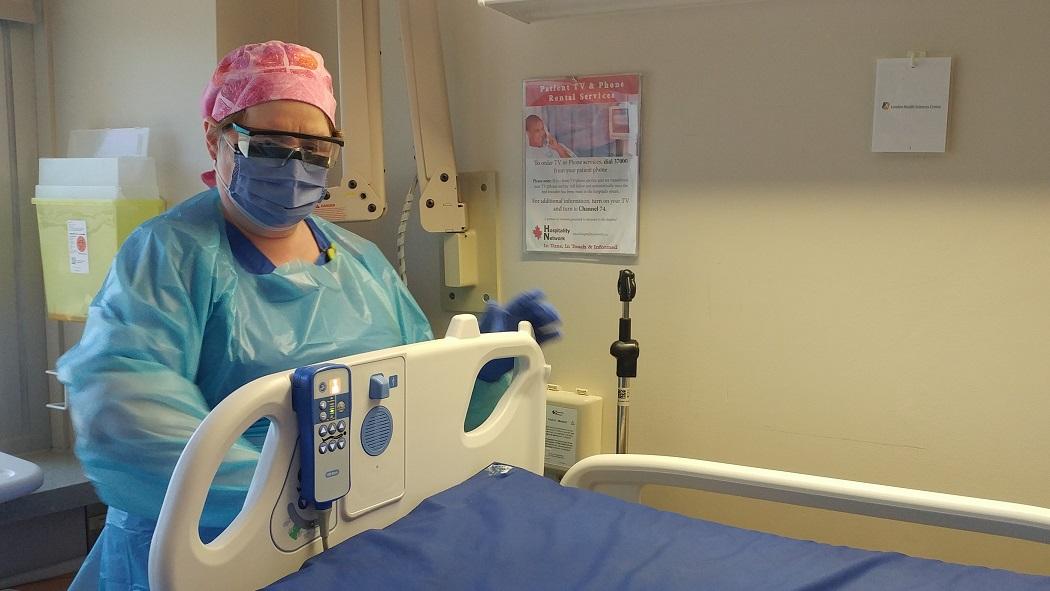 July 3, 2020
At London Health Sciences Centre (LHSC) members of the housekeeping staff, managed by partner Sodexo, are fighting the spread of COVID-19 on a daily basis throughout the hospital. They are tackling the challenges the pandemic has brought by using a mix of training, redeployment and technology to keep staff, physicians and patients safe.
Special groups with enhanced cleaning protocol training are working in the Emergency Department, Critical Care and Trauma Centre and Intensive Care Unit, while other cleaners are focusing their efforts in high traffic areas around the hospital with greater frequency, explains Jason Moniz, Manager at University Hospital (UH) for Housekeeping/Sodexo. Housekeeping is organizing staff to be consistent in the areas that require enhanced cleaning.
Members of the housekeeping staff, like Donna Gallant, are fighting against COVID-19. Wearing full PPE all day, she works in the suspect COVID-19 unit at UH and is a member of an enhanced cleaning team. "Every room we are going into has a contact and droplet precautions sign," says Donna when asked about how COVID-19 has impacted her daily routine. "We double bag all the waste. Everything in these units is garbage, nothing is reusable."
Enhanced cleaning is for patients who are also on ventilators as there is the increased potential for airborne particles. Moniz details how the patient rooms are cleaned with disposable wipes and mops, and garbage bags are wiped down and double bagged to reduce transmission. The team members have been assigned by the leadership team.
Sodexo has redeployed members of its 380 staff to ensure the needs of patients and staff are being met. Housekeeping staff from ambulatory areas have been redeployed with the reduction in services to high touch point and inpatient areas.
"We have assigned staff for common areas for the hospital and they are cleaning those areas three times a day such as entrance lobbies, elevators, door handles, hand rails, and other high touch surfaces," Moniz details. Nine staff members have been redeployed to the two assessment centres, and one to the Kidney Care Centre.
In addition to redeployment, Housekeeping is increasing its use of a special disinfecting robot in the Emergency Department and clinical areas to help with further disinfection. "The robot was used prior to COVID-19, however we've increased our volume usage of them in areas like Emergency Department, droplet contact rooms, staff lounges and washrooms during the pandemic," explains Moniz.
The robot uses bursts of high intensity, germicidal ultraviolet light to deactivate viruses, bacteria and spores after a room has been cleaned.
Through training, redeployment and technology, Sodexo's Housekeeping team is helping ensure exceptional quality and safety at LHSC.