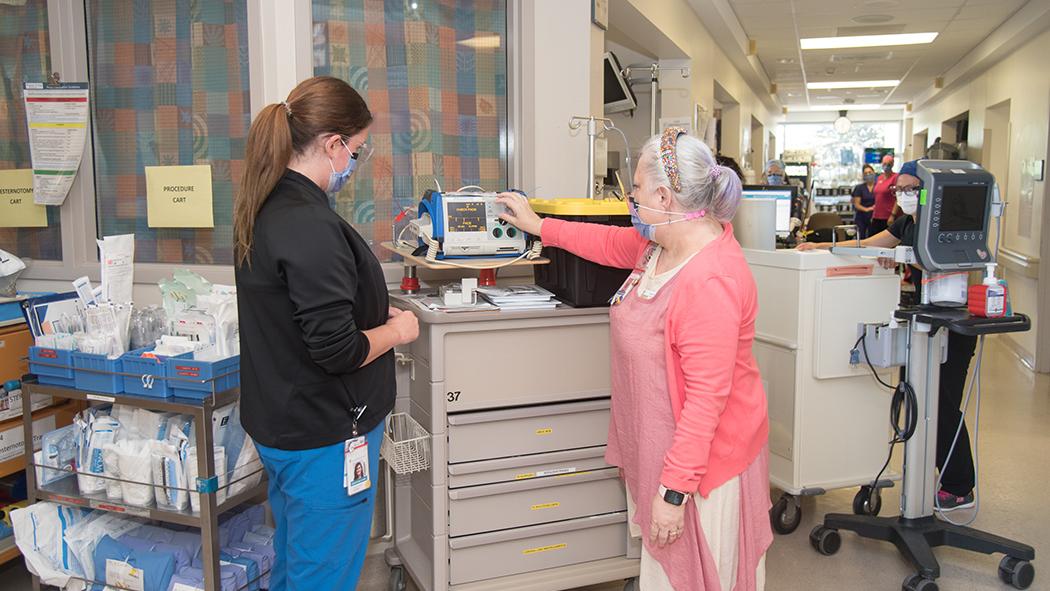 July 21, 2021
Critical Care Clinical Educator, Rachelle McCready shows redeployed nurse Samantha Larose how to set up a Zoll defibrillator in the ICU at University Hospital.
Clinical Educators help train nurses to assist in caring for critically ill COVID-19 patients
Since March 2020, the clinical educators supporting the Critical Care Program at London Health Sciences Centre (LHSC) have trained over 150 nurses from other areas of the hospital to work in the critical care units at University and Victoria Hospitals. The team of clinical educators continue to provide education to nurses, clarify policies and procedures, and provide support to the nurses caring for critically ill COVID-19 patients.
The critical care clinical educators work as a city-wide team to provide education to nurses who are entering the Critical Care Trauma Centre (CCTC) at Victoria Hospital, and the Intensive Care Unit (ICU) at University Hospital. Although the redeployed nurses are highly skilled in their respective areas, they require additional training to care for patients in the critical care setting. The critical care educators are former critical care nurses who now support the teams by ensuring they have the most up-to-date information on policies, procedures, certifications and training. Normally a team of four, they have received support of two other clinical educators from other areas.
Typically, these clinical educators train 20-30 nurses, two times a year with 150 hours of in-class education. This is supported by skills development at the bedside with preceptors for an additional 220 hours of clinical time over 10-12 weeks. Despite the pandemic, the Critical Care Program has continued to onboard critical care nurses into their program. In addition to the traditional education program, the clinical educators provided redeployed nurses with an orientation to the unit and teamed them up with an experienced nurse.
"The critical care nurses did amazing and outstanding work. They have been teaching the redeployed staff while caring for very sick patients and supporting their patient's families, who were frequently from out of town," says Rebecca Park, a clinical educator in the CCTC at Victoria Hospital.
The redeployed nurses are providing support to the critical care nurses in order for them to continue to care for large volumes of patients as a team. It takes years for critical care nurses to develop the skills and confidence required to perform at the expert level. "Even though we've provided education to redeployed staff, it is really focused on staff and patient safety. It takes intensive education and years of training to develop their skills," Dashnay says.
Restrictions related to COVID-19 precautions, such as limits on in-person meetings, required the clinical educators to modify the delivery of education from in-person, to virtual, to a combination of in-person and virtual. The return to in-person teaching required special permission from the Pandemic Response Committee.
During the training of redeployed nurses, the clinical educators continue to provide training and clarification on new procedures and policies to the critical care teams. "We find our focus tends to get split quite a bit between training redeployed staff and supporting our existing staff," says Ian Dashnay, a clinical educator for the ICU at University Hospital.
While there have been new procedures with COVID-19, many of the procedures and policies are ones that are already in use. An example is the proning of patients which critical care nurses are trained to do, but prior to COVID-19 occurred infrequently. "As a result, we refreshed the education and resources for the nurses to refer to because COVID-19 patients, in critical care, are frequently proned," says Dashnay.
The clinical educators also worked with the staff on their concerns surrounding PPE supply and use. Uncertainty and lack of information on COVID-19, and the rapidly changing policies and procedures required frequent updates as information became available. The orientation for the nurses being redeployed included a component on properly putting on, donning and taking off, doffing PPE. For Park, she could feel the anxiety in the room increase as the nurses realized they'd be working with COVID-19 positive patients in an unfamiliar setting. "Almost everyone at that point became anxious, but trying to address the anxiety in a group setting like that was difficult," says Park.
Additional anxiety came from teams trying to figure out their roles and responsibilities. With the rapidly increasing patient load and subsequent increase in redeployed nurses during the third wave, critical care nurses were not always sure of the background or training of the redeployed staff who they were working with. To help overcome the uncertainty, the clinical educators created communications tools for the nurses to use. This has helped create trust and ease anxiety for both the redeployed nurses and the critical care nurses.
The critical care clinical educators have worked as a team, across sites, to ensure the nurses working in and being redeployed to the critical care units had the support, training and information they need throughout the COVID-19 pandemic.