JDRF Canadian Clinical Trial Network launches first randomized controlled trial of a structured transition clinic
April 23, 2012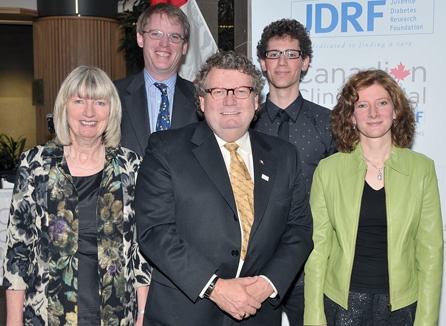 Ed Holder (centre), Member of Parliament, London West is joined by, from left, Dr. Cheril Clarson, LHSC Pediactric Endocrinologist; Andrew McKee (top), JDRF Canada's President and CEO; Andrew (top), young adult with T1D in transition;
and Dr. Tamara Spaic, Adult Endocrinologist, St. Joseph's Health Care London.
On April 20, 2012, the JDRF Canadian Clinical Trial Network (JDRF CCTN) announced the launch of the Structured Transition from Pediatric Care to Adult Care in Type 1 Diabetes Trial (Transition Trial). Led by Dr. Cheril Clarson at the Children's Hospital, London Health Sciences Centre (LHSC), and Dr. Tamara Spaic at St. Joseph's Health Care, London, the study will be the first randomized controlled trial of a structured transition clinic that incorporates a dedicated coordinator to aid in the transition process. The goal of the study is to improve clinic adherence and health outcomes by closing the gap in the care of this population at a vulnerable time.
Adolescence is a period in life associated with many challenges. For patients with chronic diseases – such as type 1 diabetes (T1D) – this life stage is complicated by the daily demands of disease management. One of the major changes that occur for adolescents living with T1D is the transition from pediatric to adult medical care.1-3 Diabetes control may significantly deteriorate during adolescence due to multiple factors, including: physiological insulin resistance (caused by the hormonal changes of puberty), psychosocial distress, risk taking behaviour, intentional insulin omission (due to attention seeking or as a means of weight loss), or eating disorders.
"Adolescence is a time of many changes. It can be challenging for anyone, but for individuals with type 1 diabetes, it is a particularly vulnerable period," said Dr. Clarson, pediatric endocrinologist, Children's Hospital, LHSC. "The Transition Trial will determine if a structured transition program for adolescents and young adults with type 1 diabetes improves diabetes clinic attendance and management, as well as glycemic control. Results of the Transition Trial may also be translatable to young adults with other chronic conditions at the time of transition, and may serve to inform clinical practice guidelines."
In Canada, up to 41 per cent of T1D patients drop out of adult medical care in the first year of transition and 46 per cent report difficulties with the transition process. Consequences range from poorer glucose control, higher incidence of retinopathy8 and nephropathy, and greater hospitalization rates.Pilot studies have shown that transition support programs can improve the quality of care in young adults.
"JDRF is committed, as we always have been, to delivering a cure for type 1 diabetes and its
complications for the more than 300,000 Canadians living with the disease," said Andrew McKee,
president and CEO of JDRF Canada. "We are also focused on developing better treatments that
transform the way people with type 1 diabetes treat the disease today in order to help them live
healthier lives, now and in the future."
"Our government's support to JDRF is helping to bring new cures and therapies for diabetes to the marketplace, which is shaping a better future for all Canadians," said Ed Holder, Member of Parliament, London West, on behalf of the Honourable Gary Goodyear, Minister of State for the Federal Economic Development Agency for Southern Ontario (FedDev Ontario). "We are pleased that our investment in JDRF continues to strengthen Canada's science, technology, and innovation advantages, and create high-value jobs throughout the region."
The Transition Trial is a multi-centre randomized controlled trial with collaboration between pediatric and adult diabetes centres in several locations throughout Ontario, including: London (Children's Hospital, LHSC and St. Joseph's Health Care); Ottawa (Children's Hospital of Eastern Ontario and The Ottawa Hospital); and Mississauga (Trillium Health Centre). A minimum of 188 participants with TID aged between 17 and 20 years will be randomly assigned in a 1:1 ratio to either a structured transition program that will span 18 months, or a standard diabetes care program. Participants will be seen in the pediatric care setting for six months, and then transferred to the adult care setting where they will be seen for one year. Lastly, there will then be a one-year follow-up period for outcome assessment.
About JDRF
JDRF is the leading global organization focused on T1D research. Driven by passionate, grassroots volunteers connected to children, adolescents, and adults with this disease, JDRF is now the largest charitable supporter of T1D research. The goal of JDRF research is to improve the lives of all people affected by T1D by accelerating progress on the most promising opportunities for curing, better treating, and preventing T1D. JDRF collaborates with a wide spectrum of partners who share this goal.
Since its founding in 1970 (1974 in Canada), JDRF has awarded more than $1.6 billion to diabetes research. Past JDRF efforts have helped to significantly advance the care of people with this disease, and have expanded the critical scientific understanding of T1D. JDRF will not rest until T1D is fully conquered. More than 80 per cent of JDRF's expenditures directly support research and researchrelated education. For more information, please visit www.jdrf.ca.
About Lawson Health Research Institute
As the research institute of London Health Sciences Centre and St. Joseph's Health Care, London, and working in partnership with The University of Western Ontario, Lawson Health Research Institute is committed to furthering scientific knowledge to advance health care around the world. www.lawsonresearch.com