November 2, 2012
Sitting across from Monika Coletta in conversation, it is hard to imagine that the 20-year-old was born severely deaf. She can easily follow a conversation, despite streams of fellow Fanshawe College students walking past, joking and laughing loudly. Her pronunciation is near perfect. She projects a confidence that many girls her age - who do not face physical challenges - have trouble finding. And she is the first to point out that she has the Cochlear Implant Program at London Health Sciences Centre (LHSC) to thank.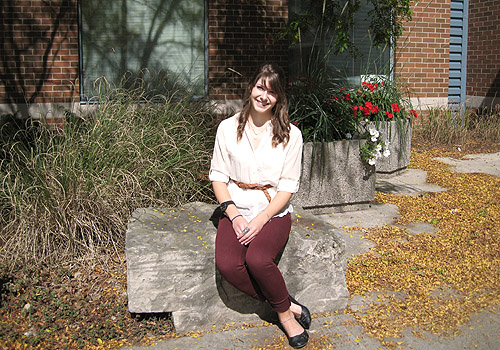 Celebrating their 25th anniversary this year, the Cochlear Implant team has changed the lives of close to 500 children, teens and adults with severe hearing impairments.
Following the two hour operation, which is done as day surgery, patients must wait three to four weeks before sufficient healing occurs to have the device turned on and programmed.  Coletta received her implant at the age of seven and the memory of that day, and the days that followed, will always remain. "I started crying the first time my implant was turned on because I realized how many sounds I had been missing. I always loved nature and being outside, and suddenly I realized that the leaves on the ground made a rustling sound and that the birds in the trees chirped. I didn't know that a panting dog made a sound."
"Virtually every patient derives benefit from their cochlear implant, and for most, it is truly a miracle," says LHSC Otolaryngologist and cochlear implant program director Dr. Lorne Parnes who performed Coletta's surgery.
The Cochlear Implant Program continues to grow year after year, having started with four implant surgeries the first year, gradually increasing to over 30 cases annually. The demand is constant, with only 13 centres across Canada performing these delicate procedures.  LHSC is unique in that it is the only facility in Ontario with a combined adult and pediatric Cochlear Implant Program. As well, LHSC's program is the only Canadian member of Hearring, an international consortium of cochlear implant centres of excellence.
For Coletta, a world without sound is now a distant memory. Today, her thoughts are filled with studying for her college business program, which she will complete this year, and thinking about what the future holds for her. "I'd like to own a corporation one day that is focused on helping people and inspiring them to be the best they can be. For years after I received my implant, I wondered how I would be accepted by friends and strangers. Now I wear my hair pulled back and don't worry about people seeing that I have an implant. I realized that I could choose to surround myself with supportive people who accept me as I am, and I want to help others understand that as well. You're amazing just the way you are."
Coletta has decided to share her journey in a YouTube video which she hopes inspires other young people to be more accepting of themselves.  


More about Cochlear implants and the Cochlear Implant Program
The Cochlear Implant Program was established for adults in 1987 and for children in 1989. Dedicated Ministry of Health funding for cochlear implants in Ontario began in 1993. The funding provided allows the purchase of a finite number of devices each year.  Consequently, candidates approved for surgery may need to be placed on a waiting list.
Cochlear implants were the first technology that enabled the replacement of human senses with a biomedical device. They enable functional restoration of hearing in patients who are completely, or near completely, deaf. The cochlear implant is a surgically implanted electronic device that restores hearing by bypassing the damaged part of the inner ear. It is recommended for individuals who obtain limited or no benefit from traditional hearing aids.
Cochlear implantation is a recognized and accepted medical procedure for the treatment of severe to profound sensorineural hearing loss (SNHL) in both children and adults.