August 15, 2012
Philanthropy is a big word, but it's a concept that five year old Alan Cousins is learning at a young age.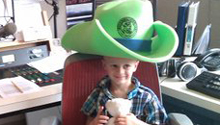 This year, five year old Alan decided to become a Change Bandit and go robbin' and lootin' to Raise Hope for Children's.  Wearing his giant green Change Bandit cowboy hat, Alan asked his friends and family to donate to Children's. With an ambitious goal to raise $500 to support the purchase of cranial drills and accessories used to perform delicate surgeries, Alan had his work cut out for him!
It wasn't long before the time came for Alan's favourite part of Change Bandits:  collecting the coins! He and his mom worked together to count Alan's loot – and there were a lot of coins to count! Alan surpassed his goal, raising $560!  This past June, Alan also raised pledges and walked at the Walmart Walk for Miracles in support of Children's Hospital, and he's already looking forward to upcoming fundraising events!
Thank you, Alan, for showing us the amazing things that happen when children Raise Hope for Children's!