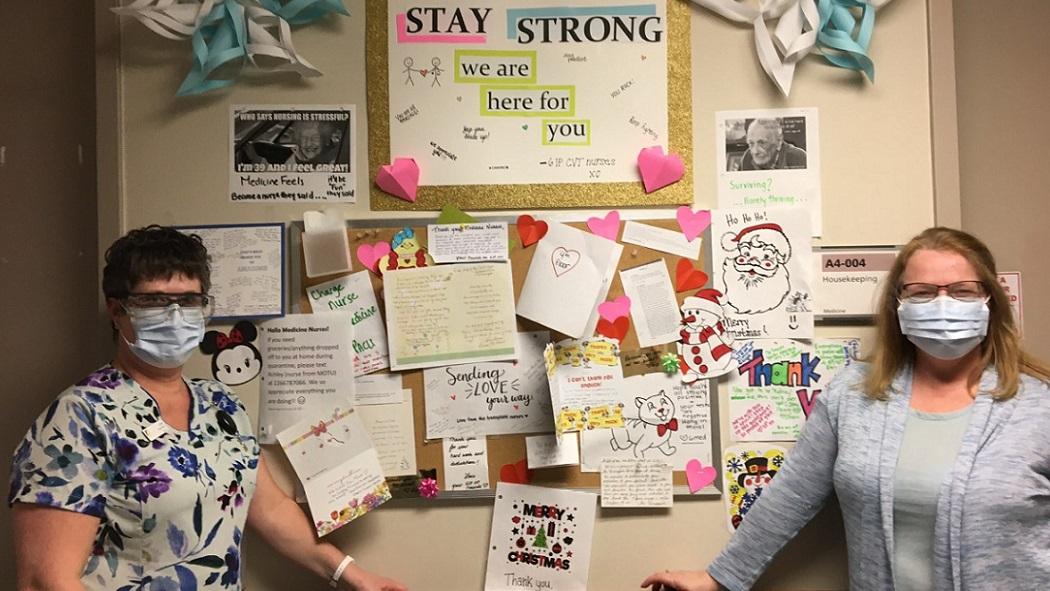 Lynda Quinn and April Tavener from 4IP at University Hospital stand in front of a board displaying the letters of support received during the outbreaks.
February 5, 2020
In November 2020, London Health Sciences Centre's University Hospital experienced several outbreaks of COVID-19. These outbreaks significantly impacted the Medicine Department's four floors which stayed in outbreak for two months. In the midst of work-quarantine orders during the holiday season, the staff and physicians at LHSC supported their colleagues impacted by the COVID-19 outbreaks.
"It was really quite remarkable. There was such amazing support and encouragement for all staff." explains Lynda Quinn, Charge Nurse on 4 Inpatient Medicine Unit.
The Medicine Department usually has the highest occupancy rates, especially in the Winter months. Early in the pandemic, the levels of stress were heightened as they were now facing a disease that was not well known. With the COVID-19 outbreaks, the situation was drastically different with patients no longer being admitted to the floors. It was still prevalent with the work-quarantine, which restricted staff and physicians on those floors to go to work, stay on their floor and then go home and while at home they were isolated from family.
"The support was overwhelming," says Quinn. "We are so thankful for the incredible kindness and generosity."
Support for staff and physicians came in various forms including cards, notes, emails, countless treats, baskets, and gift cards. All the notes, including cards sent to staff by a grade 6/7 class in a rural community were posted on bulletin boards in the unit for staff to view.
Colleagues from all over the organization who were not on work-quarantine did coffee runs for the staff and there were several deliveries of coffee from the community.
The support from colleagues, former colleagues and the community helped staff and physicians get through a very tough time. "This could've been an extremely negative work environment given the outbreak and quarantine. Instead we have become a more cohesive and resilient group," says Quinn.