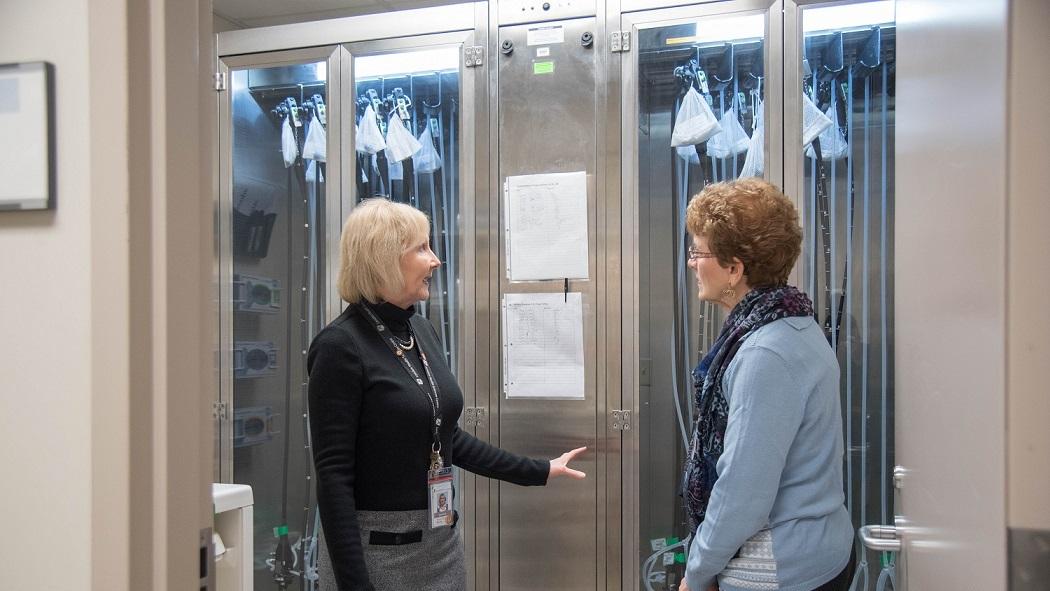 February 25, 2020
Rose Howie, Infection Control Professional explains the benefits of the scope storage cabinets to Patient Partner, Helene Malcolm.
Endoscope drying and storage: optimizing a crucial step in infection prevention
For Helene Malcolm, a Patient Partner whose family member suffered a hospital acquired infection, "making care safer for patients is extremely important and should be for all of us." London Health Sciences Centre (LHSC) is improving patient safety through the installation of specialized drying and storage cabinets for scopes and probes. This improvement was the result of a collaboration between Infection Prevention and Control, Accreditation, Medical Device Reprocessing, Clinical leadership and Patient Partners.

Following an invasive endoscopic or probe procedure, the devices are reprocessed. The basic steps include: pre-cleaning, cleaning, disinfection, rinsing and drying. The departments worked together to address an often-neglected risk of endoscopic procedures, the adequate internal and external drying of scopes after high-level disinfection and during storage. Drying can be as important as the cleaning and high-level disinfection in preventing disease transmission, particularly in channeled flexible endoscopes.

Inadequate drying of scopes and probes can facilitate microbial growth, particularly in the scope channels, forming biofilm, a community of microbial cells with superior protection, resistance to disinfectants and antibiotics, and disease-causing capacity. Thorough drying of channeled scopes can reduce the risk of growth of any residual bacteria or environmental recontamination and prevent biofilm formation in processed devices.

For that reason, recent Canadian requirements for scope storage include storage in a positive pressure high efficiency particulate air (HEPA) ventilated cabinet. These specialized drying cabinets circulate air that is highly filtered to remove airborne particles. This ensures that the vertically hung scopes and probes are thoroughly dried in a timely manner maintaining the required level of disinfection.

In 2018, 35 endoscope and probe storage cabinets, were installed in 20 inpatient and ambulatory areas at LHSC, which not only met, but exceeded these requirements for channeled flexible endoscopes. For those scopes, drying, channel purge storage was additionally provided that continually flushes the filtered air through the connected scope channels. This addressed the most challenging aspect of scope storage by providing continual drying and suppression of microbial growth externally and internally.

Optimal storage not only reduces the potential transmission of infection, but also maximizes scope life, reducing the high cost of replacement. These improvements have led to a decrease in damage and repairs to scopes in areas including Speech Language Pathology.

LHSC Patient Partner, Mrs. Malcolm views the implementation of these storage cabinets for all relevant scopes as an example of LHSC's commitment to patient safety. Mrs. Malcolm, a Patient Partner for over two years, says she was "thrilled to know LHSC is taking many measures to optimize scope safety."

The introduction of these new storage cabinets has provided significant infection prevention and physical protection for scopes and probes and signifies LHSC's commitment to the continual evaluation of patient safety and collaboration to provide the highest quality reprocessing processes for scopes and probes.