December 18 , 2014
From across Southwestern Ontario and beyond, over 10,000 handmade purple caps in all shades and patterns were donated to London Health Sciences Centre to raise awareness about Shaken Baby Syndrome.
"Thank you to every knitter and crocheter who took such great care in creating purple caps for babies," says Jane Harrington, LHSC Injury Prevention Specialist. "The generous donations of beautiful purple caps have helped provide education and deliver an important message to new parents."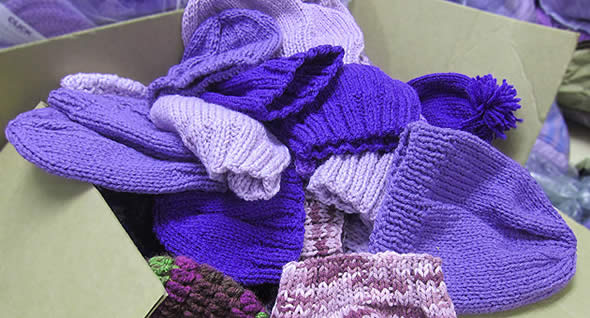 Donated purple caps were given to newborns at LHSC and other regional birthing centres throughout the month of November for The Period of PURPLE Crying® program.
Proudly supported by Children's Health Foundation, the program educates parents and caregivers about infant crying patterns in the first weeks and months after birth, and provides coping strategies. LHSC was the first hospital in Ontario to implement this effective program.
Since 2011, over 23,000 handmade purple caps have been donated by community members.
New this year, LHSC held a social media photo contest in support of The Period of PURPLE Crying program. Parents of babies who received a purple cap from LHSC during the month of November were eligible. To enter, they shared a photo on social media with their baby wearing the purple cap, using the hashtag #LHSCPurpleCap.
"A warm congratulations to Laura Weedling who won the #LHSCPurpleCap contest for baby EK's photo," announced Harrington. "You have helped raise awareness for the Period of PURPLE Crying."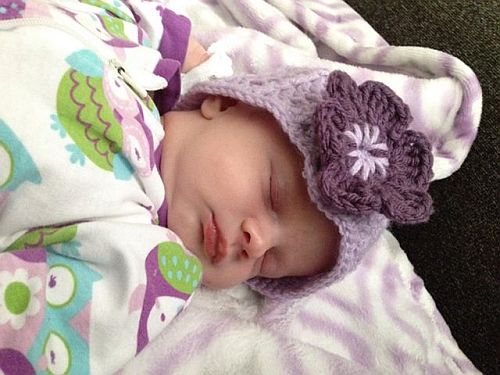 Winning #LHSCPurpleCap photo submitted by Laura Weedling.
The contest winner received a family/newborn photo session with Laura Rowe Photography.
The word PURPLE is an acronym which reminds parents of the characteristics of normal infant crying.
• Peak of crying – The baby may cry more each week, peaking at two months, and then less at three to five months.
• Unexpected – The crying can come and go, with no explanation.
• Resists soothing – The baby might not stop crying no matter what you try.
• Pain-like face – It may look like the baby is in pain, even when they are not.
• Long lasting – The baby might cry 5 hours per day or more.
• Evening – The baby might cry more in the late afternoon or evening.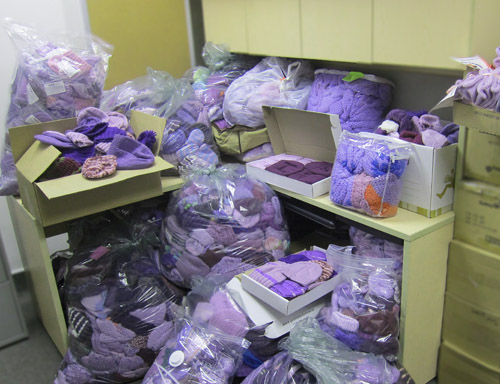 Some of the 10,000 handmade purple caps donated for the 2014 Period of
PURPLE Crying program at LHSC.