June 22, 2015

The Connecting Care Collaborative (C3) initiative won the population-based integrated health services delivery award at the recent South West Local Health Integration Network (SW LHIN) Quality Symposium.
The top 20 per cent of heath care users from the city of London consume 86 per cent of the health-care dollars being spent, or just over $750 million. Around $200 million of that amount is incurred just during inpatient stays at hospitals. 
The South West Community Care Access Centre (SW CCAC), St. Joseph's Health Care London (St. Joseph's) and London Health Sciences Centre (LHSC) identified an opportunity to collaborate across the continuum of care and better support these patients and their families. 
This group of service providers was able to move quickly towards a more integrated system for high users due to a shared technology infrastructure and an ability to identify high users who are also patients of St. Joseph's or LHSC's Family Medical Centres (FMC). 
Based on analysis of the FMC high user data, the initial focus of the C3 initiative will be patients suffering from Congestive Heart Failure (CHF), Chronic Obstructive Pulmonary Disease (COPD) and/or Diabetes.
The project team used a system level approach to:
understand how patients diagnosed with CHF, COPD and/or diabetes use the system as a whole,
find innovative service models to ensure seamless care across the continuum, and
find efficiencies that will improve quality, safety and costs.
This initiative included developing strategies that will allow us to better manage chronic diseases in the community and primary care settings, lower the demand on hospital services, and ensure patients are discharged to the appropriate provider to receive the appropriate support as they move through our health-care system.
Multiple stakeholders, including patients and families, are actively collaborating on the C3 project.
In addition to having good information on the various services and how to access them, the initiative partners will improve processes among them to ensure patients can access the right service when they need it. This project identified how we can ensure this patient population receives the best care across the continuum.
The C3 project is in the preliminary stages of implementation and therefore outcomes are not yet available, however early results are promising.
"Working with our patients and project partners, we will develop individualized care plans for these patients. It is our collective goal to keep patients safe in their homes, make it easier to access the right service in a timely manner, and put innovative resources in place to support this population," says Laurie Gould, Chief Clinical and Transformation Officer, LHSC. 
In essence, this project is designed to break down the barriers between partners and focus on building a high-quality system of health care that offers the best possible patient experience for our communities.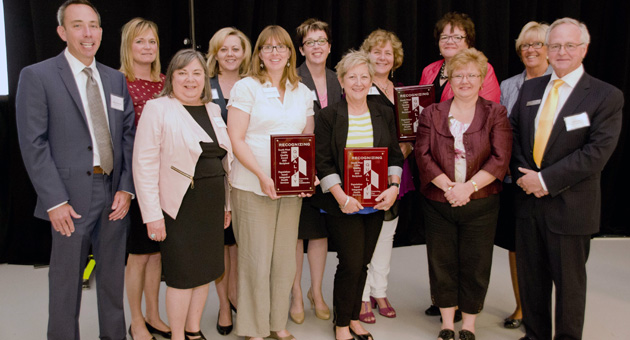 Members of the Connecting Care Collaborative project team received a quality award at the recent South West Local Health Integration Network.