Chatham woman helps brighten hospital stays for kids at LHSC
July 13, 2012
When Wilma Noordam's brother passed away from cancer in February, she knew she needed to do something to help others and to recognize her brother's legacy. Flipping through a craft magazine one day, she spotted an article about a woman in the US who had started a charitable organization focused on making colourful pillowcases for children living with cancer. The woman in the article had a son who was battling leukemia and had noticed that not only was his hospital room very institutional looking, but that his pale skin blended into his basic white pillowcase, making it difficult to see where the pillow ended and her son began. She began crafting brightly coloured pillow covers to add some colour to her son's room, and soon realized that all of the children in her son's ward could benefit from the same pick-me-up.
Noordam, upon reading this, knew that her sewing skills could be put to good use to help brighten children's spirits and quickly got to work on her new project. A visit to her local fabric store resulted in yards of fun, uplifting prints guaranteed to bring a smile to little faces. Soon enough, Noordam had 22 pillowcases completed and ready to deliver to the Children's Hospital at London Health Sciences Centre.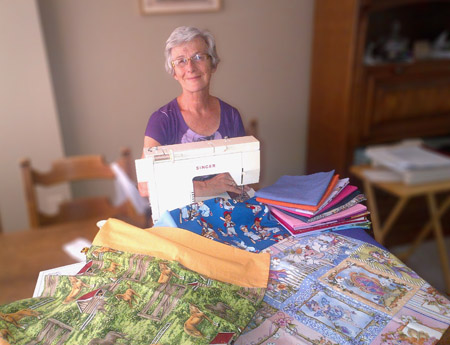 Following her first drop off at the hospital, Noordam was excited to return home to Chatham to begin work on more cases. A call to her local newspaper to advise them of her efforts resulted in an article which generated great interest in the community, and the recruitment of six more volunteers making pillowcases in their own homes. Before she knew it, Noordam had 55 pillowcases ready for delivery to the hospital, with more still being made.
On her second visit in May, Noordam was happy to have the opportunity to meet one of the children who would be receiving a pillowcase, Melissa. She offered the young girl her choice from an array of designs, and saw a sparkle in Melissa's eye as she chose one covered in ice cream cones. "Maybe if I'm sleeping on this pillowcase, I'll feel like I'm having an ice cream."
If she had any doubt before, Noordam was now convinced that her project was making a difference in the lives of the children who received her generous donation.  "When I saw that young girl smile from ear to ear, knowing how unwell she was feeling, it was the greatest feeling in the world. I know now that this is a project I will continue for a long time to come."