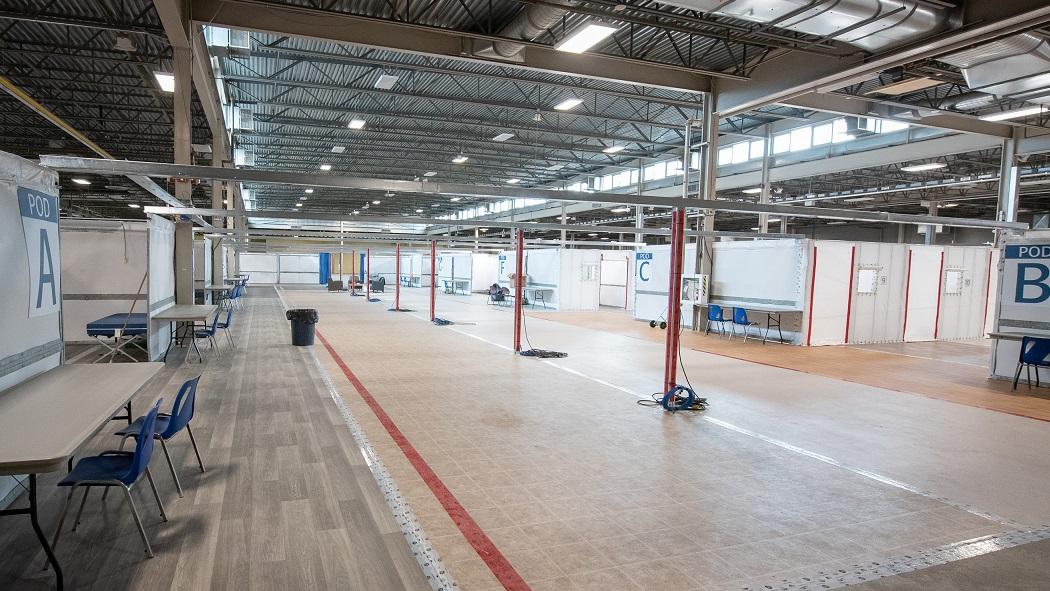 May 8, 2020
Experience, collaboration and preparedness take a concept to reality in under three weeks
To prepare for an influx in COVID-19 patients, London Health Sciences Centre (LHSC) worked with the City of London and Western Fair District Agriplex to create a field hospital. Discussions began mid-March and within three short weeks, the field hospital went from being a concept to reality because of staff and physician experience, preparedness and collaboration with all hands on deck.

"While we remain hopeful for the best-case scenario where the field hospital is ultimately not needed, the preparedness of that facility continues at this time," says Neil Johnson, Interim President and CEO of LHSC. Activation of the field hospital facility will occur only if and when the need arises.

"The overarching goal for the field hospital is to be an off-site facility to augment and support services for LHSC and the South West subregion, so the main hospitals can meet the need and provide the best care to all patients at all times," says Dr. Vivian McAlister, a surgical consultant in the departments of General Surgery and the Transplant Program at LHSC.

Dr. McAlister knows field hospitals. His experience in the Canadian Forces Medical Service establishing field hospitals in Haiti, Afghanistan and Syria made him one of the first people Dr. Ian Ball called when Ontario Health started discussing COVID-19 capacity contingencies.

Dr. Ian Ball, a critical care physician at Victoria Hospital and Critical Care Lead for the Ontario West region, also engaged Brett Watson, a coordinator in Surgical Care at Victoria Hospital to help with the undertaking. Like Dr. McAlister, Dr. Ball and Watson have experience with the Canadian Armed Forces. Their collaboration to create a field hospital drew upon their dual training in health care and in the armed forces.

The last time a field hospital was created on Canadian soil was during the 1918 influenza outbreak. Since then, the Canadian military has become proficient in establishing them around the world to respond to various crises. "While every request is different for international deployment, we follow military protocol, and that's what we did here in London," explains Dr. McAlister.

A reconnaissance of London to find a suitable location was made. The preference was a permanent structure that meets the majority of their prescribed requirements including running water, electricity, access points, accessibility and parking.

The City of London's Emergency Response Plan already identified Western Fair District Agriplex as a location for a centre to house people impacted by a disaster, and was a crucial component in the rapid completion of the field hospital. This plan, revisited annually by the City with various emergency response providers including LHSC resulted in swift action.

"The gravity of the situation did not escape anyone," Dr. McAlister says. He credits all those involved from the City, Fire, Police, Emergency Management Program, Emergency Medical Services, Western Fair District Agriplex, LHSC departments, and the various trades for pulling together and working collaboratively to take the field hospital from conception to reality in a short period of time.

Within LHSC, the Facilities Management department and ITS worked together in the hospital and reached out to other departments, such as Diagnostic Imaging, Linen Services, Security and Pharmacy, as well as clinical teams to make everything operational. As the coordinator, Watson notes how all the areas of the hospital have pulled together. "Everyone has stepped up to a leadership role and it's been a very large team effort."

"Out of all this collaboration, we now have a high-quality field hospital where we can provide excellent care and protect our staff," Dr. McAlister says.

By combining the experience of knowledgeable staff, the preparedness of the City and the collaborative efforts of all involved, the field hospital has manifested as a viable alternate care space to help with a potential influx of COVID-19 patients.

"LHSC, the City of London and all involved are working together to protect the people of London and the region; helping them feel secure in a time of uncertainty," says Dr. Ball.

As we move into the next phase of the pandemic response, Johnson is grateful for all those involved. "I want to thank our staff and physicians, all the departments at LHSC that were involved, and our community partners for their dedication, teamwork and support. This has been vital to our on-going efforts. We are also very thankful to the community, for taking the necessary measures to help us maintain our capacity and eliminate our immediate need for the field hospital."

LHSC is continuing to follow Ministry of Health directives and like all Ontario hospitals would defer to the Provincial process for redeployment of equipment within our own organization or to other centres in more urgent need.
See more photos of the field hospital on Facebook.