October 30, 2012
The Prevention and Early Intervention Program for Psychoses (PEPP) at the London Health Sciences Centre opens its 6th biennial Creative Minds exhibition at The ARTS Project on October 30, showcasing artwork created by clients, their family members and PEPP staff.  It was founded and continues to be co-directed by PEPP staff Jill Lynch and Deborah Windell.
PEPP is an internationally renowned program dedicated to providing treatment and advocacy for young adults experiencing a first episode of psychosis. Its team of clinicians and research staff work together with individuals and their families to help clients resume functioning and achieve personal recovery goals. Psychosis affects 1% of young people, often at the time in life that individuals are working towards their educational and personal goals.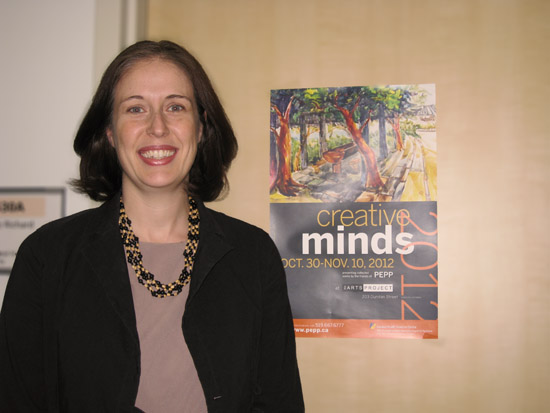 "PEPP helps clients shift from remission of symptoms to recovery. Medications can reduce symptoms, but recovery and the resumption of fulfilling day to day activities are most important to our clients", says PEPP psychiatrist Dr. Julie Richard. "For many of our clients, creative expression is a powerful means for recovery – it can impact hopes, feelings and goals clients have for themselves."
This year's exhibition will include art from several genres including watercolour, canvas, installation art as well as photography and poetry. Pieces in the show are chosen through a juried submission process. On November 1, there will also be a performance night for clients, allowing participants to share their talents in the areas of spoken poetry, singing and instrumental music.
"Our team works hard planning for this exhibition, often donating their own personal time, because we are all aware of how important it is for the clients and family members to have the opportunity to share their talents with the community. It is important to focus on achievement and accomplishment, and we're thrilled that each year, this show continues to grow. We know this is an opportunity to celebrate the collaboration and creativity of the PEPP community ", says Richard.
The Creative Minds exhibition will continue until November 10 at The ARTS Project, located at 203 Dundas St. and will feature a wishing well in which participants and visitors can place stones inscribed with their thoughts on mental health. The collected stones will become a permanent fixture in the PEPP program area at LHSC following the show.