November 6, 2014
The Prevention and Early Intervention Program for Psychoses (PEPP) at London Health Sciences Centre opened its 7th biennial Creative Minds exhibition at The ARTS Project, showcasing artwork created by clients, PEPP staff and friends of the program. 
PEPP is an internationally renowned program dedicated to providing treatment and advocacy for young adults experiencing a first episode of psychosis. Its team of clinicians and research staff work together with individuals and their families to help clients resume functioning and achieve personal recovery goals. Psychosis affects one per cent of young people, often at the time in life that individuals are working towards their educational and personal goals. 
"PEPP helps clients shift from remission of symptoms to recovery. Medications can reduce symptoms, but recovery and the resumption of fulfilling day-to-day activities are equally important to our clients," says PEPP psychiatrist Dr. Julie Richard. "For many of our clients, creative expression is a powerful means for recovery – it can impact hopes, feelings and goals clients have for themselves."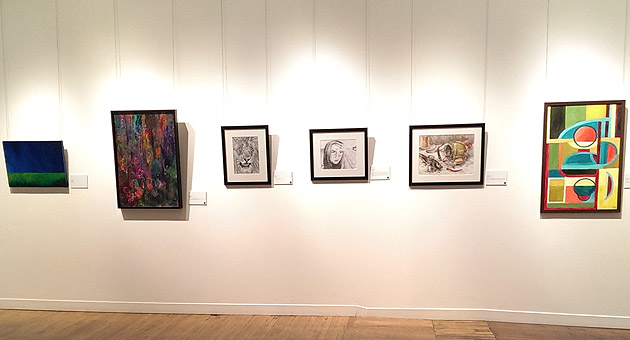 See more photos of the Creative Minds art exhibit on LHSC's Facebook page.
For Chris, the featured artist in this year's show, the opportunity to share his passion for photography with a public audience is another achievement in an already extensive artistic career. Having lived and worked in Montreal and Egypt prior to returning to his hometown of London, Chris has spent his lifetime pursuing creative endeavours.  His photographs are nature focused, with an eye to recognizing and respecting that there is life in everything around us.
"Photography allows me to express myself, and helps me to understand my relationship with nature and the physical world. I try to be respectful to nature, and appreciate it in all its forms," says Chris.
This year's exhibition will include over 50 pieces from several genres including watercolour and canvas as well as photography and poetry. Pieces in the show are chosen through a juried submission process. On November 12, there will also be a performance night for clients, allowing participants to share their talents in the areas of spoken word, singing and instrumental music.
For Dr. Richard and the PEPP staff, the show is the culmination of months of planning and organization. "Our team always looks forward to this event, because we see the commitment and dedication our clients have to their art, and the pride they feel when their artwork is selected for the show," says Dr. Richard. "Recovery for our clients takes more than just coming to a doctor's office. Our aim is to help clients regain their confidence and sense of community, and this art exhibit is one important way we accomplish that."
As for Chris, the show provides an opportunity to say thank you to the PEPP program for the support shown to him years ago.
"I am honoured to have been chosen as the featured artist for the show, because there are a lot of great artists participating," said Chris. "The people at PEPP – both clients and staff – are wonderful, and I am very appreciative that they have selected me to be part of this important event."
The Creative Minds exhibition will continue until November 15 at The ARTS Project located at 203 Dundas St. and is open to the public free of charge. The gallery is open Tuesday to Saturday, noon until 5 pm. The performance night on November 12 will run from 6-9 pm.
See more photos of the Creative Minds art exhibit on LHSC's Facebook page.