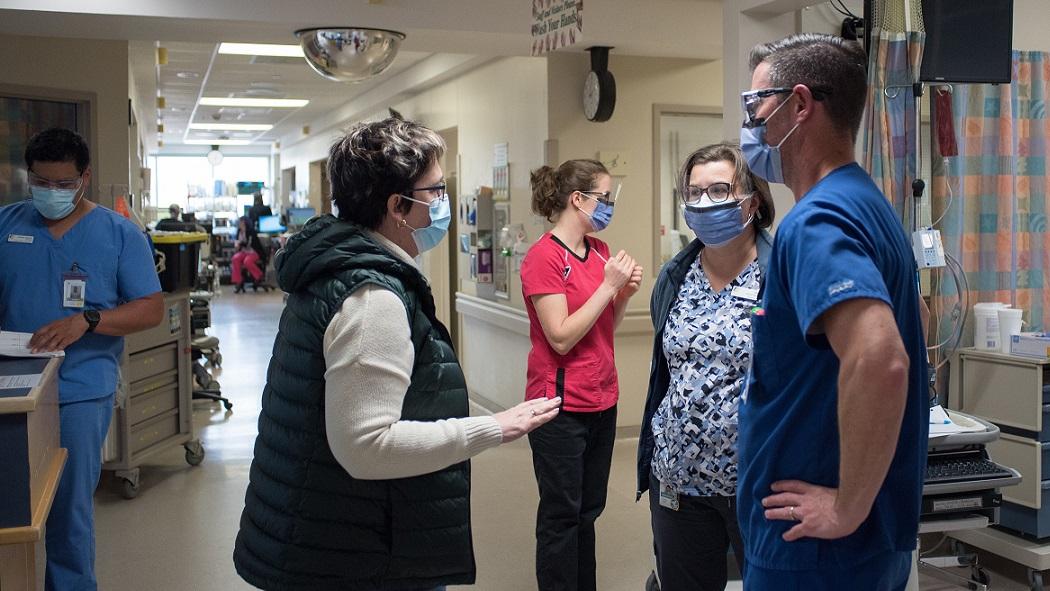 Carol Young-Ritchie hears from LHSC staff and physicians about their experiences during the third wave of the COVID-19 pandemic
May 7, 2021
Reflections from Carol Young-Ritchie, EVP, Chief Clinical Officer and Chief Nursing Executive
Part of my weekly schedule, as Executive Vice President, Chief Clinical Officer and Chief Nursing Executive involves rounding and speaking to staff and physicians. I want to share some of what I've seen during my recent rounding over the past two weeks in the critical care areas.

I've seen teamwork. I've seen compassion. I've seen exhaustion.
The past 14 months have been long. We now find ourselves challenged in Wave 3 with high numbers of acutely ill COVID-19 patients in a stretched healthcare system. We are meeting the demand for care in the province as well as caring for our community as well as friends and families. Many of us have been personally impacted by changes to our life routines and disruption of the things we enjoy such as being with other; so important to work-life balance.
The images we are seeing on tv and on social media today are what we expected to happen last year in the first wave. We were ready at that time and we braced for it.
Now we are dealing with it. Our highly skilled staff and physicians are tired from what feels like a never-ending marathon. There is fatigue and anxiety, but there is also collective compassion, collegiality, adaptability and resilience. This is what I see.
As we navigate what we hope will be the last significant wave of the COVID-19 pandemic in Canada, we are being asked to do even more in order to care for Ontarians from areas of the province where hospitals and care givers are overwhelmed. We are helping to balance the load across the broader hospital community and we are responding as the situation evolves. Our critical care capacity is assessed daily and we generally expect to accept patient transfers from out of region.
Given our role in the southwest as a large academic hospital, we are continuing to plan to be ready to expand critical care capacity at LHSC to meet the demand for patient care.
The expansion in our critical care capacity has meant changes in workflow for our staff and physicians, from placing the life-saving equipment outside patient rooms to make sure it is easily accessed, monitored and cleaned, to having skilled staff redeployed from other departments to critical care. We have even had nurses join us, redeployed from other hospitals, for which we are grateful.
It has also meant finding new ways to communicate including using messages written on paper, held up to a glass door, and using virtual visits to connect family members to critically ill loved ones.
Please know, this is not normal for us. I consistently hear from our teams that they want the public to know just how serious this wave is and how we must abide by the public health directions.
We knew PPE was important prior to the pandemic. Now the public knows what a vital resource it is. Even more vital are our human resources, our health-care workers who are living our values every day by providing compassionate care and coming together to support our patients and their colleagues as a team.
We will get through this pandemic but we are in a tough spot right now. I am incredibly proud and humbled by the dedication and resolve of our staff and physicians, including those who have been redeployed to address our staffing needs on the critical care teams.
Being a nurse, I know the level of compassion and humanity our staff and physicians bring when they care for patients. Our patients are not numbers, they are individuals. It can be easy to get numb to the numbers that are reported daily. Our care providers know firsthand numbers represent someone's friend, loved one. Our staff and physicians connect with each patient. They feel for each patient and their families. They celebrate with patients when they get better, and they grieve for patients and their families when they don't. Staff and physicians are tired, especially when people can take steps to prevent it. This is how serious this wave is.
The serious impact on the patients whose medical procedures have been placed on hold so we can focus on COVID-19 related illness is another aspect to this wave.
Yes, we will get through this together. We need your help. Do your part to help us through this as well – stay home, stay safe and when it's your turn, get vaccinated. It matters!
Please remember LHSC remains open and is a safe place to receive care. It is important that you do not delay seeking care for any urgent or emergent needs.