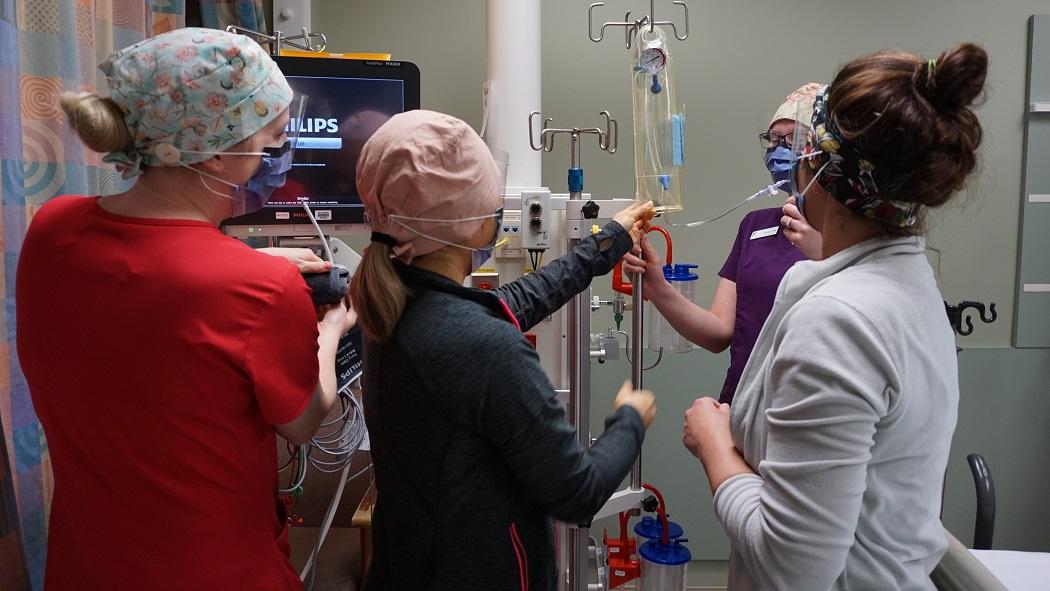 April 16, 2020
Nurses from Cardiology are introduced to the Critical Care setting. From left to right: Brittany Hathaway, Que Lam, Stefanie Salinitri, and Denise Giffen.
As London Health Sciences Centre (LHSC) prepares for a potential influx of COVID-19 patients, one area expanding is the Critical Care Unit. The Critical Care Unit, located at both University and Victoria hospitals provides intensive care to patients and is tripling its capacity, from 69 to 184 beds. In addition to needing more space and equipment for the expansion, it also requires more staff and is currently training more than 100 nurses from other areas to provide support to the critical care team.

The team of physicians, nurses, other health professionals and support staff who work in Critical Care are highly trained. Nurses who work there have taken additional education to be designated critical care nurses and are trained to provincial standards.

Patients in Critical Care have a one-to-one or one-to-two ratio with their highly trained nurses. With the potential rapid influx of patients and expansion of beds, Critical Care's Director, Dawna VanBoxmeer has worked diligently with other hospital units, administration and staff to change the unit's workflow.

"It has become a whole hospital team approach to help us increase our capacity," says Ms. VanBoxmeer.

During the COVID-19 pandemic, Critical Care nurses will work in teams alongside nurses from different areas of the hospital who are being trained to work within their scope in the Critical Care setting. More than 100 nurses have received training and are ready to be redeployed from all over the hospital to provide support.

"The nurses undergo a two-day in-class training session followed by experience on the floor," Ms. VanBoxmeer explains. "We are customizing the training a bit to ensure staff feel as comfortable as possible before going on the floor in Critical Care."

The unit is also engaging approximately 40 previous critical care staff members who are now working in other areas of the hospital or who have recently retired. They have all been given a one-day refresher class to ready them to be back in the Critical Care setting.

The training and re-training sessions have been organized and facilitated by the critical care clinical educators. The sessions are being held in the amphitheaters at both University and Victoria hospitals to ensure compliance with social distancing.

"All of our staff are coming in with a really good attitude and everyone is working in teams to ensure we are ready," Ms. VanBoxmeer says.