August 7, 2012
For 21 years, Gaby Copeland and her team of Jazzercise instructors have been dancing, stretching, strength training, and boxing for Children's Health Foundation through their annual Jazzerthon fundraiser!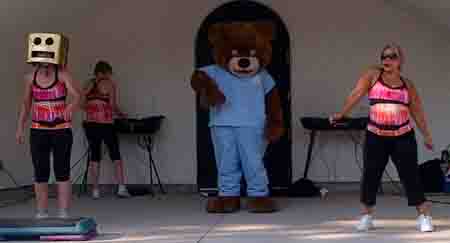 After having her own personal experience with Children's, Gaby decided that she wanted to give back.  Gaby's son Sean was born with Down's Syndrome. At only 18 months of age, Sean braved a high-risk surgery for a congenital heart defect at Children's Hospital. A mere six months later, he was diagnosed with a serious respiratory virus.
"Children's Hospital is near and dear to our hearts," says Gaby, "20 years ago, Children's saved Sean's life not once, but twice. Jazzerthon is our way of thanking Children's medical staff for the important role they played in our lives, as well as the role they play for each and every family who are touched by these angels."
Today, Sean is an active young man, and looks forward to participating in the event each year. Over the past 21 years, Jazzerthon participants have raised over $306,000 for Children's! Participants collect pledges for the two-hour event, which is packed with jazz, dance, resistance training, Pilates, yoga, and kickboxing.  Click here to learn more about the great work Gaby is doing.
Thank you Gaby and the Jazzercise family for Raising Hope for sick and injured kids at Children's!   
Click here to learn more about Children's Health Foundation.