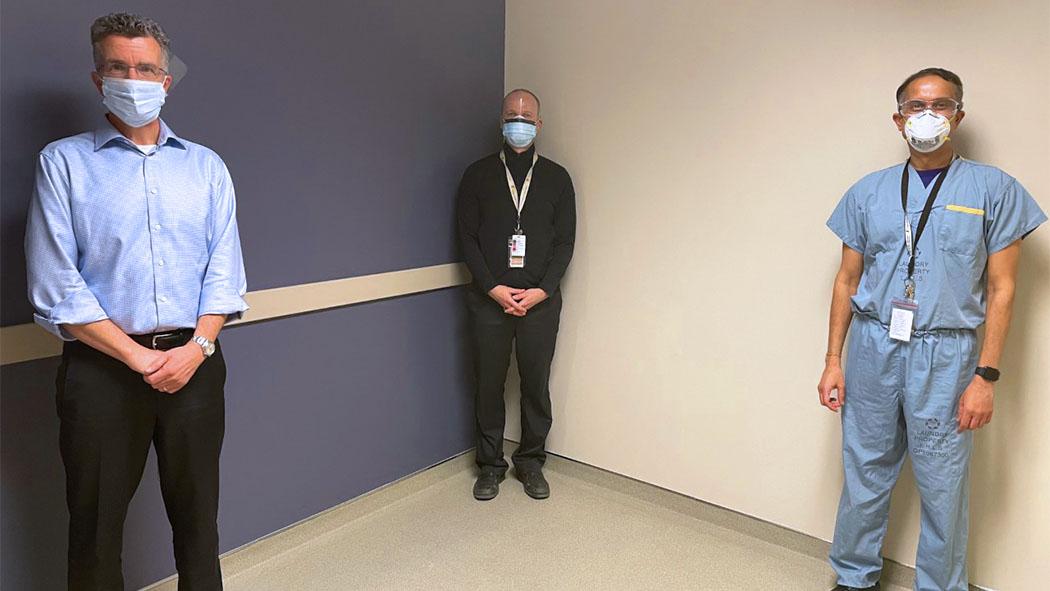 Nephrologists at LHSC's University Hospital are donating to department funded grants to help their patients and student physicians.
Wanting to be able to help protect their patients and others in the community, a group of nephrologists at LHSC's University Hospital signed up to help deliver vaccines at the Western Fair Agriplex Vaccination Centre. Instead of volunteering their time, they have opted to donate their billings back to two departmental funds to further the positive impact of their ability to vaccinate. Being able to contribute to the health and safety of patients and the public has given these physicians a renewed sense of hope and energy after a year of uncertainty and anxiety.
"I was speaking with a colleague in Ottawa who was volunteering to deliver vaccines and immediately reached out to the Agriplex to see if I could help," recalls Dr. Matthew Weir, nephrologist. Dr. Weir contacted April Mullen, Director of Clinical Operations Agriplex COVID-19 Vaccination Centre in December 2020.
Mullen remembers receiving the email and the conversation that ensued including enthusiastically accepting Dr. Weir's offer of help. At the time, physicians were required to have LHSC privileges in order to help vaccinate. This changed in mid-March with physicians only needing to sign a contract with the Middlesex-London Health Unit (MLHU).
"I sent Dr. Weir an email outlining the renumeration process and his response was 'if you force me to take the pay, I'll donate it. So, I suggested he do just that," says Mullen. Given Dr. Weir's specialty, Mullen suggested the Renal Patient Assistance Fund. Dr. Weir responded by asking if he could engage other nephrologists as well.
Dr. Hariharan Iyer and Dr. John Johnson joined Dr. Weir in signing up. Dr. Weir has chosen to donate his billings to the Renal Patient Assistance Fund and Drs. Iyer and Johnson, heavily involved in medical education, chose to donate to the Nephrology Resident Education Fund. Both are departmental based funds with no external funding source.
The Renal Patient Assistance Fund provides financial support to patients undergoing dialysis who are disproportionately socio-economically disadvantaged. The fund helps patients pay for emergency living expenses, renal related medication, medical equipment, food, clothing, parking, transportation needs and more. The Nephrology Resident Education Fund provides financial support to trainees in Nephrology to help them meet their educational requirements including participating in conferences and research.
For Dr. Weir, the decision to donate his billings was easy. "As physicians we are counselling patients about vaccine hesitancy. I wanted to remove any optic of us encouraging patients to get the vaccine if we are benefiting financially from it," explains Dr. Weir. "What better way than to donate the money?"
While it was Dr. Weir who helped organize the participation of the nephrologists, he was the last to have the chance to vaccinate due to scheduling. However, after his first shift, Dr. Weir felt elated that he is able to help in the fight against COVID-19.
For the physicians, the opportunity to help vaccinate patients and the public has been an uplifting experience. "We spend so much of our lives treating illness. It was refreshing to get on the prevention side," explains Dr. Johnson.
As a group, they are excited about the opportunity to vaccinate some of their younger patients who are now eligible for the vaccine as they are at the highest risk of infection from their chronic diseases. They are even more excited about the ability to provide these vaccines to patients in the hospital while they are undergoing dialysis treatment. Dialysis patients receive treatment for a minimum of four hours at a time, three times a week. These vaccinations began Thursday, April 8, helping reach patients who are extremely high risk and may not have the capability of travelling to the vaccination centres.
Shelby Cherrey, a dialysis patient receiving her first dose of the vaccine during her treatment on April 8 is pleased to hear of the work being done by the nephrologists. "They are so caring to volunteer their time and pay it forward by donating back, I think it's fantastic," she says.
To date, as a group Drs. Iyer, Johnson and Weir have completed 19 shifts. They do not have a specific fundraising goal in mind, rather they are trying to help out and raise as much as they can. "This group is so humble about what they're doing but when their colleagues find out, they want to recognize them," explains Mullen.