December 20, 2012
Recognized for research in developing simulation-based training for laparoscopic and robotic surgery Dr. Christopher Schlachta, medical director, Canadian Surgical Technologies & Advanced Robotics (CSTAR), LHSC, has been awarded a Queen Elizabeth II Diamond Jubilee Medal.
Dr. Schlachta is one of the thirty Canadian physicians who have been selected by the Canadian Medical Association to receive the Diamond Jubilee Medal. The Diamond Jubilee Medals were instituted to mark the 60th anniversary of the accession of Queen Elizabeth II to the throne. These special commemorative medals recognize outstanding Canadians of all ages and from all walks of life – people who have built and continue to build our caring society and country through their service, contributions and achievements.
Dr. Schlachta is known for his clinical expertise in advanced minimally invasive surgery and in particular laparoscopic and computer-assisted surgery for gastrointestinal disease and cancer.  His research and clinical expertise has led to a number of Canadian and World surgical firsts including: World's first needlescopic sigmoid colon resection (2001), Canada's first robotic assisted common bile duct exploration (2007) and World's first robotic assisted intestinal bypass for SMA syndrome (2008).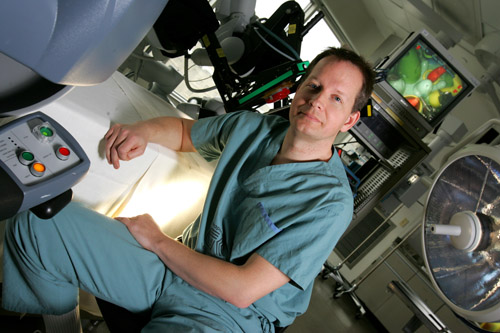 Well known for his tireless contributions to the international surgical community through leadership and contribution to the committee work of a number of surgical societies Dr. Schlachta is a member of the Board of Governors of the American College of Surgeons, the Board of Governors of the Society of American Gastrointestinal and Endoscopic Surgeons and the Board of Directors of the International Federation of Societies of Surgical Endoscopy. He is a past President of the Canadian Association of General Surgeons.
He is also a professor in the Department of Surgery and the Department of Oncology at the Schulich School of Medicine and Dentistry at Western University and has received awards for teaching at all levels including medical students, residents and practicing surgeons.
Most recently, Dr. Schlachta has been working as the lead investigator on a $10 million project, funded by the Ontario government, to develop computer based surgical simulation. This project is a CSTAR led grant including Western University and the University of Toronto.