February 4, 2013
Lawson Health Research Institute's Captain (Navy) Dr. Raymond Kao is the recipient of the first chair in military care research in Canada. Surgeon General Brigadier-General Jean-Robert Bernier presented the chair to Dr. Kao on behalf of the Canadian Armed Forces (CAF) at a ceremony today at London Health Sciences Centre.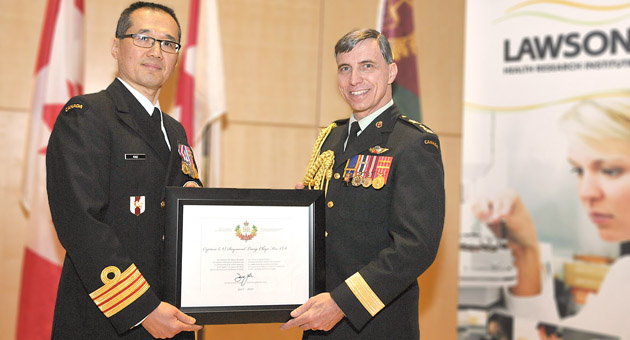 Dr. Kao is widely recognized for his research on erythropoietin, a hormone produced by the kidneys that stimulates the production of red blood cells and, in turn, haemoglobin. Dr. Kao found that when combined with saline, erythropoietin can improve blood flow and tissue oxygen usage after an injury. His findings can be used to help stabilize wounded soldiers in the battlefield.
"You always want to find ways to improve the resuscitative process, so my research team looked at one aspect of that in order to improve soldiers' survival rates and decrease complications if they are wounded in battle," says Dr. Kao. "An evacuation takes time – usually 45 to 60 minutes to get people out by helicopter or vehicles. Erythropoietin can be easily given in the field, through a syringe, and helps preserve tissues while injured personnel await transfer to definitive care."
More recently, Dr. Kao has been studying the use of C-Peptide in shock and resuscitation. C-peptide is an insulin connecting protein which has protective effects to various stressed organs. "Early results have been promising," says Dr. Kao, "we have found that it reduces both lung and gut injuries after hemorrhagic shock and fluid resuscitation."
The Chair is named after Group Captain G. Edward Hall. Although best known in the London, Ontario area for his service as Western University's Dean of Medicine and longest serving president, another of his great contributions to Canada was as a military health researcher.
"The biography of Group Captain Hall is truly extraordinary and I have every confidence that Captain (Navy) Kao will fill his new role in a professional manner, commensurate with the manner of its namesake," said Surgeon General Brigadier-General Jean-Robert Bernier. "Group Captain Hall is a fine example of the impact a military career can have on the welfare of Canadians and I am confident that Captain (Navy) Kao will bring such impact to Canadian via his research skills."
Dr. Kao has served in various military units as a Medical Officer since 1991. A member of the CAF since 1977, Dr. Kao has served in Bosnia, Africa and the Middle East. More recently, Dr. Kao has served four tours to Afghanistan-Kandahar as an Internal Medicine and Critical Care physician and Mazer-e-Sherif as an advisor to the Afghan 209th Army Medical Corp. Dr. Kao is the senior critical care advisor to the Surgeon General, a researcher at Lawson, a critical care physician at LHSC, and an Associate Professor in the Department of Medicine at Western University's Schulich School of Medicine & Dentistry (Western).