July 14, 2014
Dr. Vanessa Burkosksi is a woman who wears many hats. LHSC's Vice President & Chief Nursing Executive, Quality, Patient Safety and Professional Scholarly Practice since 2011, Burkoski is also now the President of the Board of Directors of the Registered Nurses' Association of Ontario (RNAO). The RNAO is the professional association representing over 36,000 nurses in Ontario.
"I support the mission of the RNAO to foster knowledge-based nursing practice, promote quality work environments, deliver excellence in professional development, and advance healthy public policy to improve health," says Burkoski. "These are the elements of nursing professional scholarly practice that we encourage and foster at LHSC."
As RNAO Board President, Burkoski is accountable for the leadership, strategic direction and management of professional practice, quality and patient safety. It is a two-year term.  As President of the RNAO Board, Burkoski also holds a position on the Board of Directors for the Canadian Nurses Association, an organization committed to advancing the role of registered nurses through promotion and advocacy.
Burkoski is a Registered Nurse and holds a BScN,MScN, NP-PHC and Doctorate in Health Administration. She is an Adjunct Associate Professor at the University of Windsor and holds an Adjunct Academic Appointment in Nursing at the University of Western Ontario. She is the co-chair of the NPAO NP-Admit/Discharge Expert Panel and was awarded the 2012 Margret Comack National Award of Excellence in Nursing Leadership. Burkoski is also the longest serving Provincial Chief Nursing Officer.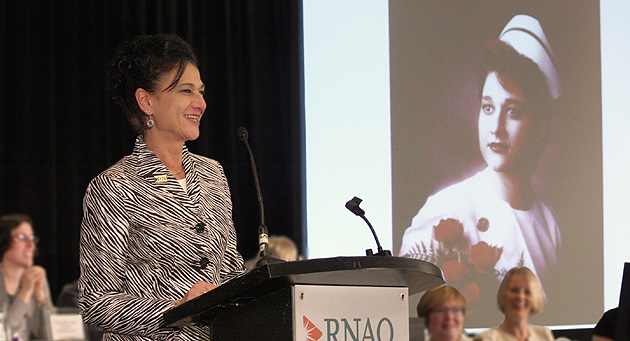 Dr. Vanessa Burkoski, RN, BScN, MScN, DHA gives her first address as President of the Registered Nurses' Association of Ontario in May, while an image of her as a nursing graduate is shown on screen.