September 26, 2014
A local dragon boat racing team that are no strangers to winning, with five national championships, tasted gold on the world stage for the first time in Ravenna, Italy. London's Rowbust Dragon Boat Racing Team won three gold medals at the Club Crew World Championships crowning them the first ever winners of the Breast Cancer Survivor Division.
Rowbust, formed 15 years ago, is made up of breast cancer survivors from London and the surrounding area. "As breast cancer survivors we proved to the world we are as competitive and athletic as everyone else," says Dr. Tracy Sexton, oncologist, London Health Sciences Centre (LHSC).
The crew of 30 with volunteer coaches Cheryl McLachlan and Sarah Shellard prepared for two years, but training intensified in March with lake practices three times a week, two gym days, and additional cardio. "We sacrificed our holidays and many weekends for the team," continues Dr. Sexton.
Their efforts paid off and gold can be spotted throughout Victoria Hospital (VH) and University Hospital (UH) as seven members of the championship roster work at LHSC: Gail Hathaway, pre-admission clinic, UH, Linda Kuska, orthopaedic clinic, VH, Wendy McCrady, St. Joseph's Family Medical Centre, Charlene Rivard, mental health, VH, Dr. Tracy Sexton, London Regional Cancer Program, and Jan Young, transcription services, UH. They were also joined by friends, family and supporters.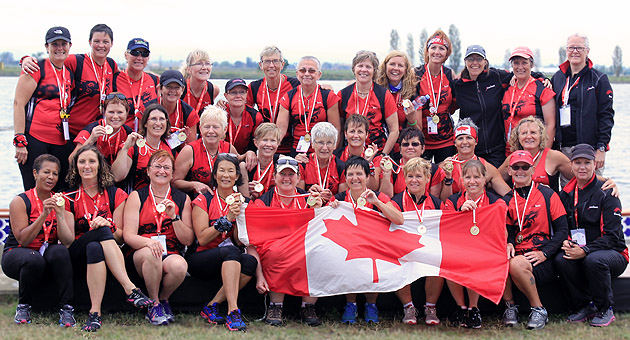 Competing against teams from the United States of America, Italy, Australia and others from Canada Rowbust won the 2 kilometer race with a time of 10:59, the 500 meter race with a time of 2:21, and the 200 meter race in 55 seconds. "We pushed our team to achieve and we hope to inspire other breast cancer survivors," says Dr. Sexton. "Dragon boat racing helps us realize there is more to life than breast cancer." Before the world championships began, the team traveled to London, England to mentor a cancer survivor dragon boat racing team.
In London, Ontario Rowbust is comprised of 70 members making up two crews – one geared toward fun and the other more competitive. Team members can join any time, but must be finished treatment and cleared medically to participate. Many wait until a year after treatment, but others join sooner. "We are a support group, but we rarely speak about cancer. It is what brought us together, but not what defines us," says Dr. Sexton.
The next stop for Rowbust is the International Breast Cancer Paddlers' Commission's Participatory Dragon Boat Festival in Sarasota, Florida. Rowbust is sending two teams to join over 100 others from Canada, the United States, Australia, New Zealand, the United Kingdom, Italy, Ireland and Singapore.