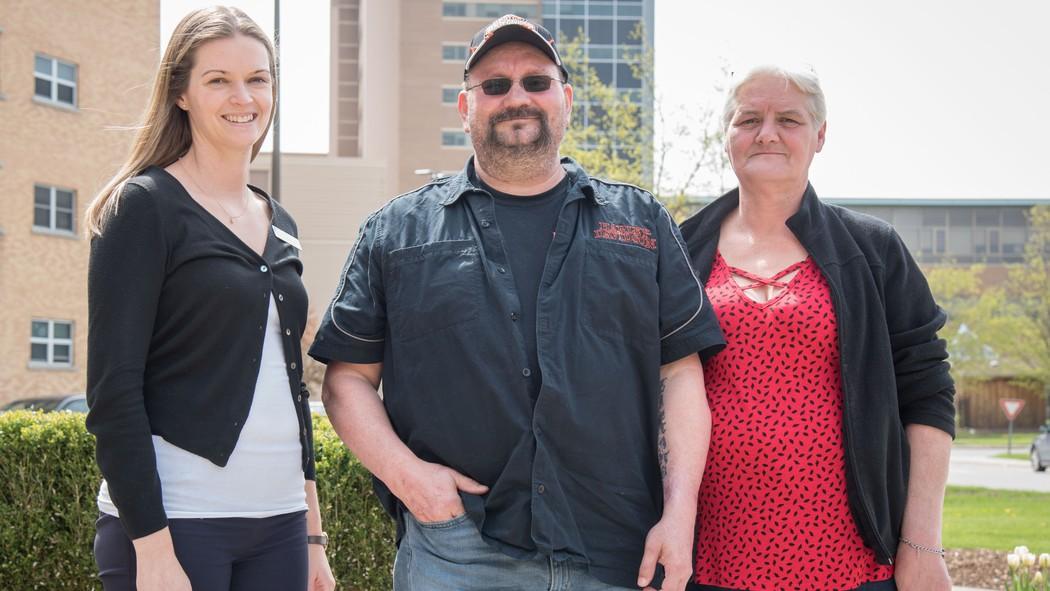 From left, Jennifer Lindsay, injury prevention specialist, LHSC, joins Frank and Heather Divinszki in asking drivers and motorcyclists to drive cautiously this summer.
Victoria Day is the unofficial start of Trauma Season
The 'roar' of motorcycle engines are being heard again as Canadians embrace the warmer weather and get ready to celebrate Victoria Day, the unofficial start of summer. The May long weekend also marks the unofficial start of trauma season for the Trauma Program at London Health Sciences Centre (LHSC), and the program's busiest four months of the year.
"Unfortunately the Victoria Day long weekend triggers trauma season for LHSC," says Jennifer Lindsay, injury prevention specialist, LHSC. "Each year we see an increase in the number of severe injuries as the weather warms up and outdoor activities increase." LHSC cared for 418 trauma patients (352 adult patients) between May and September last year, which accounts for 50 per cent of all traumas in 2018.
That statistic is all too real for Frank Divinszki, and his wife Heather, whose lives were changed following Frank's collision with a left turning pick-up truck while on his Harley-Davidson one evening in 2017.
"Our life changed completely in a matter of seconds," says Heather.
Frank woke up at LHSC after being unconscious for nine days with injuries to his face and head, arm, leg, ribs, and heart despite having worn his protective helmet and visible clothing. He would spend the first month of his recovery at LHSC in the Critical Care Trauma Centre and then as an inpatient before being transferred to Woodstock General Hospital for nearly another two months.
"We're grateful for the care Frank received, particularly the LHSC nurses who took time to get to know Frank, and his preferences, such as favourite music, when caring for him," says Heather.
"I'm still in rehab working on strengthening what can be strengthened and focused on recovery," says Frank, who cannot yet return to work as a heavy equipment operator. "I'm asking that all motorists slow down, look twice and pay attention. Everyone has a responsibility to drive safely and be aware of their surroundings."
Lindsay offers further safe driving tips for all motorists and motorcyclists:
Always wear approved safety-rated motorcycle helmet
Wear bright colours to make yourself visible
Drivers be aware motorcyclists are back out on the roads, double check your blind spots
Impaired is Impaired – plan for an alternate ride if you are going to be consuming alcohol or using drugs
"As trauma season begins, the need for a stable blood supply to care for trauma patients can increase. If you're able, consider donating blood," adds Lindsay. "We want everyone to have a safe long weekend and summer, and practicing safe driving can help you stay out of our trauma room."