April 24, 2014
Several times a year Lawson Health Research Institute researchers host grade seven and eight students in their labs to inspire discovery and innovation. The tour is part of Museum School, and allows young people to see inside the lab, learn about what scientists study, and even participate in a few experiments of their own. Museum School is coordinated by the Canadian Medical Hall of Fame, and provides elementary students with a valuable week of learning and discovery. This innovative approach to education allows teachers to move their classroom to a museum setting for a full week of curriculum-based experiential learning.  Students learn about Canada's past and present medical heroes, meet local scientists working with the latest technology, and imagine making medical discoveries.
Students from Chippewa Public School in London visited Victoria Research Lab at Victoria Hospital on April 3, making stops in Dr. Gedas Cepinskas' Centre for Critical Illness Research lab and meeting with three PhD candidates in Dr. Nathalie Berubé's Children's Health Research Institute lab.
The Centre for Critical Illness Research (CCIR) focuses on the basic and translational studies of sepsis/systemic inflammation. Specifically, the team uses human samples and animal models to unravel the mechanistic aspects of organ-specific (e.g. brain, lung, heart, liver) dysfunction in critically ill patients and patients with severe sepsis.
Dr. Cepinskas' research is specifically focused on the inflammatory activation of specific cells during systemic inflammation (e.g. sepsis, trauma) and subsequent inflammatory interaction between these cells. In addition, suppression of inflammation by novel carbon monoxide releasing molecules (CORMs) is an area of current investigation.
Dr. Erik Patterson (Post-Doctoral Fellow), Dr. Ken Inoue (Post-Doctoral Fellow), Claudia Augustine (MSc), and Martin Woo (MSc student) helped present in the CCIR lab. The students learned about the clinical problem of "systemic inflammation" and highlights of the research approaches (e.g. cell culture) to address the clinical problem. They watched a demonstration of the human-derived cells grown in cell culture dishes (phase contrast microscopy connected to the video system) as well as the artificial blood vessels used in vascular surgery. A "hands on" approach had the students swab cells from the inside of their cheeks for visualization of the living cells by phase contrast microscopy.
In Dr. Nathalie Berubé's lab, researchers study DNA structure in the brain by investigating the function of two important proteins required for correct DNA structure: ATRX and CTCF. ATRX and CTCF mutations in humans cause intellectual disability, reduced brain size, and a number of other developmental abnormalities. Dr. Berubé's lab is working to better understand why human mutations in these proteins result in defective brain development and cognition.
Ashley Watson (5th year PhD candidate), Matthew Edwards (3rd year PhD candidate) and Adrienne Elbert (MD/PhD candidate) taught the students about mitosis using gummy candy to demonstrate chromosomes and the mitotic spindle. Afterwards, the group broke off into smaller groups to extract DNA from an orange, examine slides of a mouse's brain under the microscope and load DNA onto an agarose gel to perform separation and analysis of DNA (electrophoresis).
"Visiting Lawson Research labs allowed my students to dream of a career related to the medical field when they are older," said teacher Anita Quenneville, "Thank you for this amazing opportunity."
See more photos from Museum School at Lawson.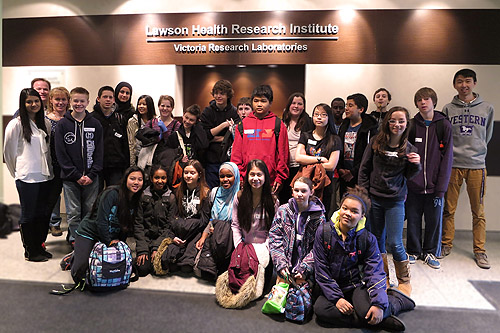 Students from Chippewa Public School in London visited Victoria Research Labs at Victoria Hospital