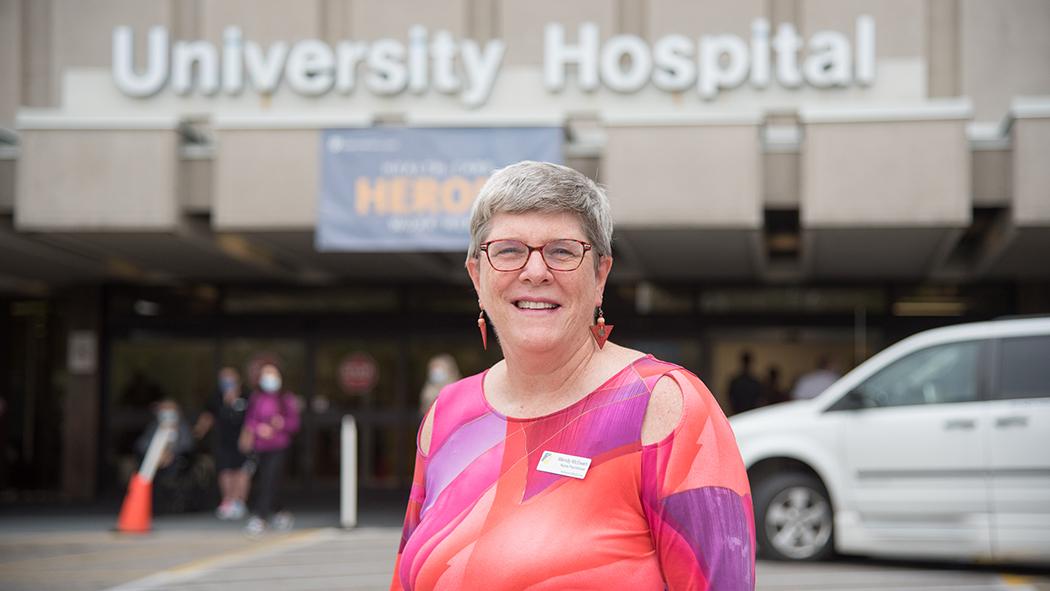 October 28, 2021
Wendy McEwen a nurse practitioner at LHSC has received the 2021 Nurse Practitioner Association of Ontario Patient Choice Award.
Wendy McEwen's career has revolved around providing palliative care and listening to her patients to ensure they get the care they need. She has spent the past five years at London Health Sciences Centre's (LHSC) University Hospital providing palliative care and ensuring patients and their essential care partners' feel safe and cared for.
Having spent the majority of her career in community health care and some formative years in Bolivia, McEwen's experience has helped shaped her philosophy regarding the importance of listening to the patient's values and their definition of quality of life in providing compassionate care.
McEwen's interest in palliative care grew when her mother was admitted as the first patient in a palliative care room at the Grey Bruce Regional Health Centre in Owen Sound. While working in the hospital, McEwen discusses how her colleagues at the time took over the care of her mother and allowed her to be the daughter. "I truly believe the experiences we go through in life are for a purpose. We learn from those experiences and apply them to future practice," McEwen says. "We help others by learning from the help given to us."
When her father was dying, McEwen helped care for him at home. This first-hand knowledge of walking with someone on a difficult journey deeply impacted her work in Bolivia and her community practice. In Bolivia, the circle of life and death experiences were tied closely together. McEwen recalls an instance where she was called from having helped deliver a baby to the death and burial of another in the community.
These experiences, combined with her desire to grow academically, have honed her belief that early access to palliative care is a necessary right of every person diagnosed with a life-threatening illness. "To me, palliative care is walking alongside a person, identifying their needs and trying to relieve that burden," McEwen explains. "People tend to see palliative care as a focus on death, but it should be a focus on life; living to your final breath."
In order to do this successfully, McEwen feels it is imperative to listen to the patient and align their care to who they area as a person. "We need to sit down, listen and focus on what is meaningful for the patient and their family," she says. A strong proponent of collaborative work in patient care, McEwen feels it's imperative for healthcare providers to work together to ensure this patient-focused care is provided. "Each provider has their own strength and expertise and when we work together, care is safer and of higher quality."
This year, McEwen was the recipient of the 2021 Nurse Practitioner Association of Ontario's Patient Choice Award, an honour she feels all health-care workers deserve after working through the COVID-19 pandemic. Humbled by this provincial recognition of her dedication and caring, McEwen is thankful for the nomination and acknowledgement of the work she does.
"It's a privilege to stand with patients and families and be their advocate and provide compassionate care," McEwen says. McEwen is helping ensure the voices of patients and their essential care partners are heard.