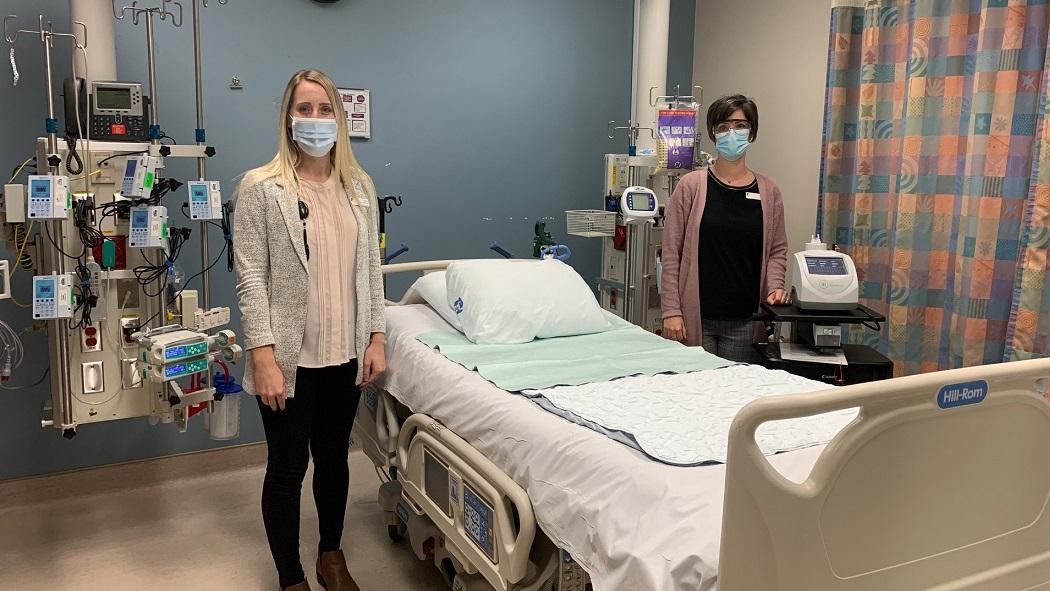 Dietitians Lindsey Baker and Robin Harper help ensure patients get the nutrients they need to get better.
November 25, 2020
Many patients admitted to hospital need nutrition care as part of their treatment to decrease the impact of their health conditions, as well as prevent malnutrition. The 58-member team of dedicated clinical dietitians and dietetic assistants (DA) at London Health Sciences Centre work as part of the health-care team in all medical programs to assess, treat, monitor and educate patients. For COVID-19 patients, nutrition plays an important role in their recovery.
As the pandemic has progressed over the past seven months, researchers have learnt more about the disease associated with SARS-CoV2 including the nutritional needs of the patients. Patients with COVID-19 need to consume increased amounts of calories and protein, sometimes requiring more than double their usual caloric intake.
"In particular with COVID-19, it's important for dietitians to be involved early in order to determine patients' individual nutrient needs and develop strategies to meet these needs and prevent the development of malnutrition," says Amanda Degen McLarty, Manager of Clinical Nutrition at LHSC.
Determining the best way to meet the patient's caloric needs and the precise macronutrient (fats, proteins and carbohydrates) and micronutrient (vitamins and minerals) needs can take time. Robin Harper, a dietitian in the Medicine program at Victoria Hospital, mentions how they have developed a process to start monitoring the dietary intake of COVID-19 positive patients as soon as they are admitted in order to provide the best care to this high-risk group.
"Dietitians are receiving referrals for about 90% of COVID-19 patients admitted to the Respirology Unit at LHSC. By monitoring their intake starting right at admission, we have the information we need to follow up and provide appropriate nutritional interventions such as high calorie and protein foods in a timely manner," explains Harper.
For Lindsey Baker, a dietitian at LHSC for almost 13 years, caring for COVID-19 patients in critical care involves collaboration. To determine the nutritional needs of patients, she combines her assessment data with the information she receives from Respiratory Therapists who use a metabolic cart to measure the energy needs of COVID-19 patients. "Overfeeding the patient can cause harm by increasing blood sugars, increasing triglyceride levels and can make weaning from mechanical ventilation difficult. That's why it's important to measure the exact energy (calorie) needs," she says.
Dietitians also ensure patients who are unable to consume food by mouth are receiving the nutrition they need. These patients may require tube feeding via the nose or the stomach, or total parenteral nutrition (TPN) via an IV. Dietitians calculate and recommend nutrition prescriptions for these patients and then follow the patients to ensure this is right for them.
According to Harper, COVID-19 is the perfect storm for patients who already are not eating well, either those who are already malnourished or immunocompromised. Higher nutrient needs in combination with the side effects of COVID-19, such as loss of appetite and nausea, can lead to rapid deconditioning.
The lack of proper nutrition can negatively impact a patient's ability to recover. As Baker explains, "When patients are very sick they are hyper-metabolic and their drive and need for nutrition is extremely heightened. If patients are not receiving optimal nutrition, they can lose up to a pound of lean body mass a day which can lead to loss of function, increased length of stay, and risk of infection. The body is busy trying to feed itself and will use whatever resources it has, including muscle and organs."
COVID-19 patients continue to require higher calories and more protein, even after discharge. In order to continue to support those patients, the dietitians are providing handouts and extra education to patients to help them continue to meet those needs throughout their recovery.
The dietitians and dietetic assistants at LHSC are working to help ensure patients get the care they need, when and where they need it.