February 7, 2014
Access to timely consultation with an intensivist is paramount in providing early, appropriate care for critically ill patients who require immediate care within four hours (by definition, a 'Life or Limb' patient).
Led by the Program in Critical Care at London Health Sciences Centre (LHSC), with representation from partner hospitals across the South West Local Health Integration Network (SW LHIN) and CritiCall, Ontario's 24-hour-a-day 'medical 911' emergency referral service for hospital-based Ontario physicians, the  Extramural Critical Care Response Team (Extramural-CCRT) protocol was developed and implemented in early 2013 to ensure that referring physicians have immediate, 24/7 access to an intensive care physician at LHSC, using CritiCall as the first point of contact, so that all Life or Limb patients receive appropriate treatment within four hours.
The intensive care physician provides consultation regarding management and diagnosis, as well as recommendations for stabilization for transport of a critically ill patient to the most appropriate hospital, quickly and efficiently.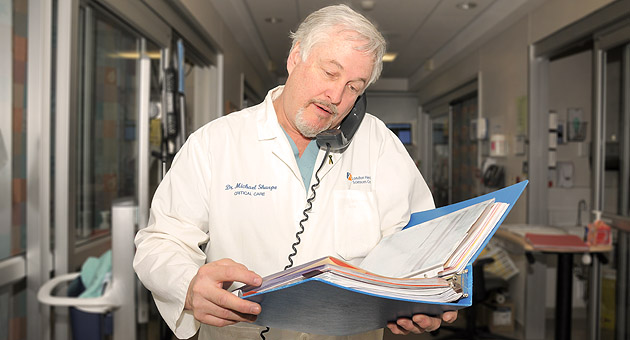 Dr. Michael Sharpe, London Health Sciences Centre, Intensive Care Unit Consultant and South West Local Health Integration Network Critical Care Lead provides a patient consult by phone as part of the Extramural Critical Care Response Team protocol
The Extramural protocol was developed to facilitate the 'Life or Limb – No Refusal Pilot Project' implemented in the SW LHIN in February 2011 to enhance access to an intensivist. The aim of the Extramural protocol is to reduce the "call time" for consultation and improve the "accept time" for transfer of critically ill patients.
"When patients can be cared for at their local hospital, consultative support is provided to referring physicians to avoid unnecessary patient transfers," says Dr. Michael Sharpe, LHSC Intensive Care Unit Consultant. "If it is deemed necessary to transfer a patient to another institution, this process facilitates the appropriate distribution of critical care patients within South West LHIN ICUs to enhance all critical services."
Prior to the development of the new protocol, intensive care physician telephone consults were impacted by the intensive care physician's current clinical responsibilities. These referrals are now handled by the Critical Care Outreach Team (CCOT) ICU physician, who is more available, with a second on-call physician also being available in the event the CCOT physician is occupied with a patient. This way, there is always an intensive care physician readily available to provide a patient consult. 
The Adult Extramural Critical Care Response Team (Extramural) protocol had several goals including:
1. Increased efficiency by ensuring:
timely access to consultation with a critical care intensivist
timely access to other consultative services, if applicable, e.g. neurosurgery
timely referral to an appropriate care institution
optimal resource utilization, such as transport, available ICU beds
all Life or Limb referrals are coordinated through CritiCall to capture all measureable data
2. Improved collaboration by:
developing an operational algorithm effective for all SW LHIN hospitals and CritiCall
aligning with One Number protocols within SW LHIN hospitals
3. Enhancing patient, physician and health-care team experiences by:
facilitating stabilization and/or transport of critically ill patients
maintaining a high degree of satisfaction among physicians and health care teams in the handling of Life or Limb patients
facilitating Life or Limb cases through CritiCall
The Extramural protocol builds on previously completed work specific to patients requiring care within four hours.  For these patients, a centralized "One Number" was established as the point of contact at LHSC for the transfer of patients requiring urgent care. CritiCall remains the first point of contact for referring physicians with urgent care patients (including trauma and critically ill) who require immediate care.
"The Extramural pilot project and subsequent acceptance as an LHSC protocol has improved access to critical services at LHSC and in community hospitals," says Sharpe. "Supporting physicians in the community by accessing their ability to speak with an ICU consultant and/or a subspecialty physician over the phone has resulted in decreased non-appropriate patient transfers to LHSC, which in turn, improves access to our acute ICU care beds for other patients that do require our care."  
Carrie Jeffreys, System Design & Integration Lead at the South West LHIN added:  "This is an example of the way hospitals across our broad geography can come together to best serve patients that are most in need of acute care services."
Results to date
The pre-period measurement was from Nov. 2011 – Jan. 2012; implementation Feb. – May 2012; and the post-implementation period was from June to Aug. 2012. Volumes were comparable pre/post (172 vs 203 calls).
Average response time (from Criticall's first call and physician's response) - 9.8 minutes.
Average time to first consult from referring physician - 19.7 minutes.
Timely acceptance to appropriate institution - 26 minutes.
An increase in acceptances from our South West LHIN Level 3 ICU's: 50% increase in Owen Sound and a four-fold increase in Stratford.
Although some physician to physician transfers continue to occur, there is an overall increase in percentage of intra-LHIN transfers coordinated by Criticall (pre 59% vs. post 75%).
Overall, 90.9% of physicians and nurses felt the Extramural physician provided the best possible care.
The Life or Limb initiative has resulted in increased efficiencies, increased collaboration, and enhanced patient, physician and health care team experiences.
Special acknowledgment is made to the South West LHIN for their funding of the project lead for the Extramural Pilot project, as well as their support of the protocol implementation across the LHIN.