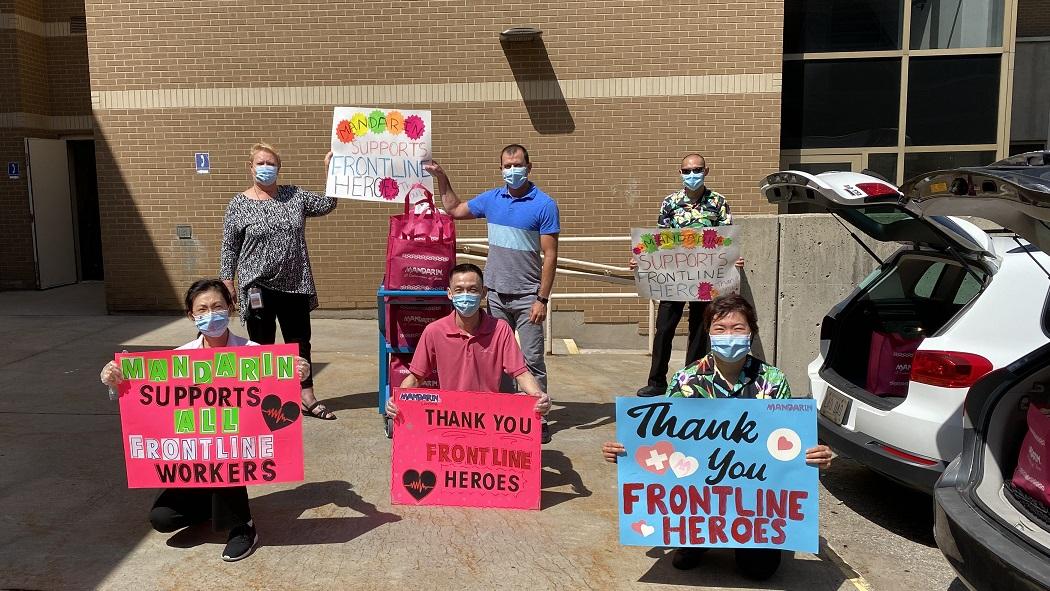 London's Mandarin locations are among many businesses that have supported staff and physicians with food donations during the COVID-19 pandemic.
August 18, 2020
Food donations from community during COVID-19 pandemic a welcome gesture
During the COVID-19 pandemic, many local businesses are supporting the efforts of health-care workers through donating prepared meals. London Health Sciences Centre (LHSC) developed a process to ensure equitable distribution of the good will from the community to all front-line health care workers. For the physiotherapists who work at LHSC's University Hospital (UH), the food donations were welcome sign of appreciation.
"It's a really nice way to have their work recognized and recognize that they were there for our patients through the pandemic," says Tania Larsen, manager of Physiotherapy. "The team members were so grateful that some even took time to write individual thank you notes to the restaurant."
The process was created and maintained by a committee comprised of members from London Health Sciences Foundation, Children's Health Foundation, LHSC's volunteer services, corporate communications, ethics, occupational health, and risk management and privacy departments. Under the guidance of the Pandemic Incident Management Team, they are tasked with ensuring the food is equally distributed among staff, and individually packaged. The Foundations are the liaisons between the donors and recipients. To ensure the process was in line with other hospitals, the team connected with colleagues across Ontario including St. Joseph's Health Care London.

Donors interested in providing meals to staff contact either London Health Sciences Foundation or Children's Health Foundation to begin the process. The committee would match the offer with a unit of appropriate size, based on numbers given by People and Culture.
"Sometimes, on-site donations were not always the best option, so we had discussions to see if gift cards or discounts were available options," explains Jennifer Baxter, Director, Community Relations at Children's Health Foundation.
The donations started with a focus on patient care areas first, followed by administrative areas. The committee ensured there was a balance between University Hospital, Victoria Hospital, and Children's Hospital. To date all in-patient areas have received at least one donated meal. In total over 3,500 meals have been donated to staff at LHSC through the process since the end of May.
Mark Warren, Manager, Risk and Privacy and a committee member is grateful for the support by the community organizations. "Their meaningful donations have been positively received and welcomed by the teams," he says.
Once Larsen was advised that her team of physiotherapists at UH was going to receive a food donation and confirmed the number of staff, she emailed the team and booked three separate rooms to ensure social distancing. The team also had staggered pick up times. All the meals were individually packaged in food containers that were easy to serve.
The physiotherapy team at UH is just one of the many grateful groups of staff and physicians. "Over the past few weeks, the foundation has been receiving hundreds of emails from staff in multiple departments, expressing their deepest gratitude and appreciation," says Shannon Digby, Manager, Donor Relations & Stewardship, London Health Sciences Foundation. "These meals, although it may seem like a small token, boosted the overall morale in a difficult time."
While this plan was developed as a temporary policy for the pandemic, it is being reviewed periodically. To date, nine companies have participated in the program. While donations have started to slow down since the economy started re-opening, the appreciation staff have of the donations is continuing.