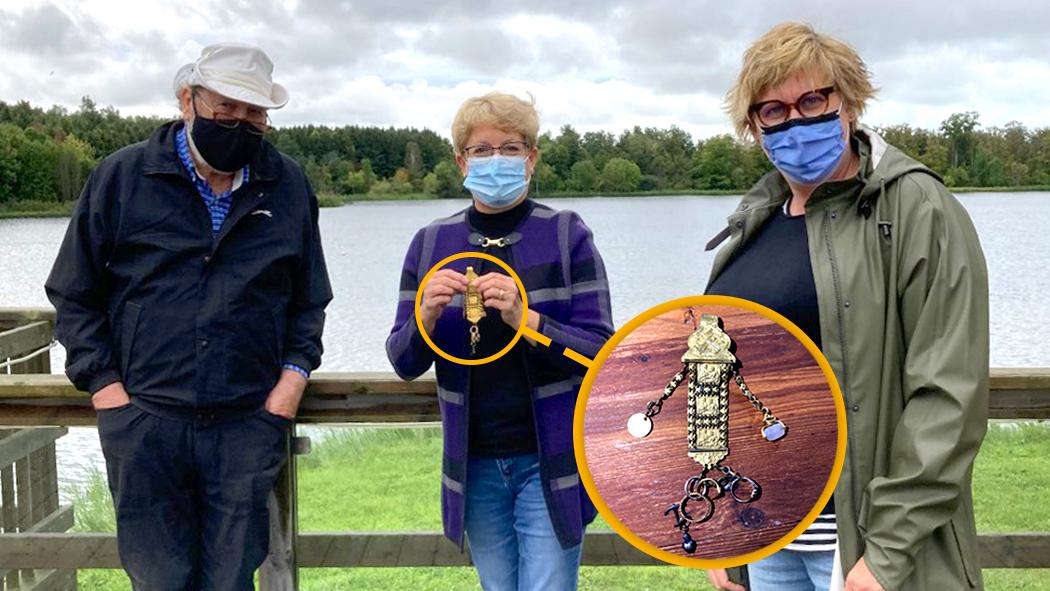 From left to right: Prof. George Ebers, Dawna VanBoxmeer and Susan Whitehouse. Whitehouse, a nurse in the ICU at LHSC's University Hospital tracked down Prof. Ebers who owns Florence Nightengale's chatelaine, which is held in the picture by VanBoxmeer who recently retired Director of Critical Care and Respiratory Services at LHSC.
October 26, 2021
A champion of patient safety, Florence Nightingale continues to inspire nurses
A champion for patient safety, Florence Nightingale continues to inspire nurses at London Health Sciences Centre (LHSC) today. For years, her chatelaine welcomed nurses, physicians and patients at the entrance of University Hospital. One of these nurses, Susan Whitehouse was motivated 30 years later to track it down and share this piece of history with her colleagues on the Critical Care Outreach Team (CCOT). This reunion happened in September in Huron County.
In 1992, as a young nurse, Whitehouse came across an intricate piece of jewelry in a display case at University Hospital (UH). It had been loaned to the Nursing Department at UH by an anonymous owner. This piece of jewelry originally belonging to Nightingale called a chatelaine, was widely used by women as an aide to managing households. It was originally designed to attach to a belt via a clip on the back to hold keys, scissors, rings and other small items. As such, it was a very intimate possession used daily by the wearer.
In 2016, Whitehouse went looking for the same chatelaine again but was unable to locate it. After searching the archives and artifacts' collections at LHSC and the London Public Library, Whitehouse realized it was not housed in either organization.
Whitehouse's curiosity about the chatelaine's location grew, and her desire to find it inspired a librarian friend to join the search. "We conducted a thorough search including a visit to the Florence Nightingale Museum in London, England," recalls Whitehouse.
Shortly after the trip, the chatelaine was discovered to be in the possession of Professor George Ebers, a neurologist at University Hospital for 22 years, specializing in multiple sclerosis. Ebers had been elected to the Chair of Clinical Neurology at Oxford University in the UK, and after 15 years had retired back to Bayfield, Huron County.
As team leader of the Critical Care Outreach Team at LHSC's University Hospital, Whitehouse thought a surprise unveiling of the long-lost chatelaine would be an inspiring team event. Prof. Ebers kindly hosted the gathering and unveiled the prized artifact to the delight of the attendees.
In late September, Whitehouse and her team travelled to learn from Prof. Ebers about how he had acquired the chatelaine. He purchased it at Sotheby's auction because of the respect for all the nurses he had worked with throughout his career. He originally loaned the chatelaine to UH to serve as a badge of office for the Head of Nursing at the time.
For Whitehouse, the visit was an emotional one. "When Prof. Ebers brought the chatelaine out of the velvet box, I actually cried to see it again after so many years," she says. The visit with Prof. Ebers and the unveiling of the chatelaine were an inspiring opportunity for the CCOT team who each had their photo taken with the prized object. Two of Whitehouse's colleagues, Barbie Allen and Allison Fish both enjoyed learning about the history of the chatelaine and holding it.
Florence Nightingale's chatelaine continues to touch the hearts of frontline nurses and inspires them to provide the best care possible for their patients as Canadian Patient Safety Week 2021, October 25-29 unfolds in the second year of the COVID-19 pandemic.