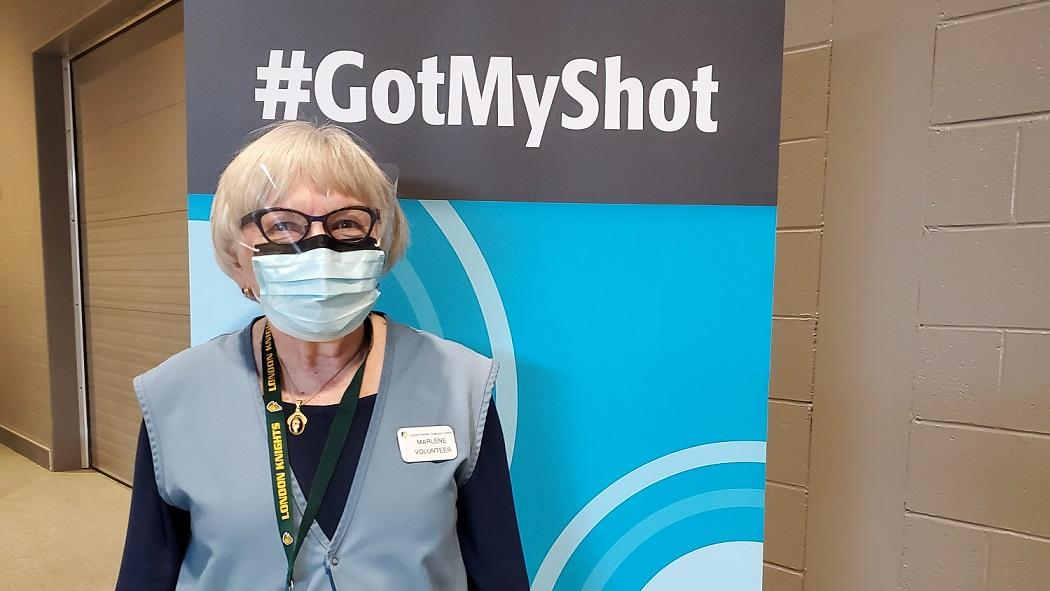 April 19, 2021
April 18- 24, 2021 is National Volunteer Week and the recognition is well deserved for the nearly 850 individuals who donate their time to help others at London Health Sciences Centre (LHSC). The National Volunteer Week theme for 2021 is "The Value of One, The Power of Many." This theme recognizes the value of the caring and compassion that each volunteer has shown, and also recognizes the power of volunteers working together.
Marlene Wyatt is receiving a long service award pin during Volunteer Week for providing five years of service as a volunteer. In 2016, Wyatt began volunteering in the Orthopaedic Clinic at Victoria Hospital. "I'm like a Walmart greeter," laughs Marlene. "When patients and families come into the waiting room, I bring them into the treatment and consultant room. I'm the first person they see that takes them to the providers."
After five years of volunteering in the clinic, Wyatt feels like part of the team. "Our work helps the staff focus on their job, but we also develop a rapport with patients. In the Ortho Clinic, we see patients return and feel happy when they 'graduate' from the clinic," she explains.
Her weekly routine was disrupted when volunteers were withdrawn from in-hospital service in March 2020 as a safety precaution during the first wave of COVID-19. Wyatt also serves on LHSC's Volunteer Advisory Council, which quickly pivoted to virtual meetings in the absence of in-person meetings, enabling volunteers to continue to be involved.
As the local COVID-19 situation improved, approximately 60 volunteers returned to a few, select volunteer roles. "I was happy to return to the team, and to interact with patients and families. Clinics continued to run when volunteers were away and our contribution to the clinic was filled in by staff as an added responsibility to their work," says Wyatt.
In December, volunteers were again withdrawn as a safety precaution, but a new volunteer opportunity presented itself. The Vaccination Clinic at Western Fair Agriplex was being prepared to receive its first shipment of vaccine and volunteers would be needed to assist with the largest mass vaccination program in Canadian history.
"My spouse Ross (who is also a LHSC volunteer) and I signed up right away when we learned LHSC volunteers were needed in the Vaccination Clinic," exclaims Wyatt. "We felt a civic duty to do something during the pandemic and we felt LHSC would put the proper precautions in place to keep us safe, and they did. Volunteer Services did a fantastic job in preparing us by creating role descriptions."
Wyatt describes the Vaccination Clinic as a happy place. She works near the exit, keeps the line moving and ensures people are social distancing. "So far, it's been an overwhelmingly positive experience, especially to see the relief and happiness of those being vaccinated."
Despite the uncertainty of the past year, Wyatt continues to feel privileged to be a volunteer.