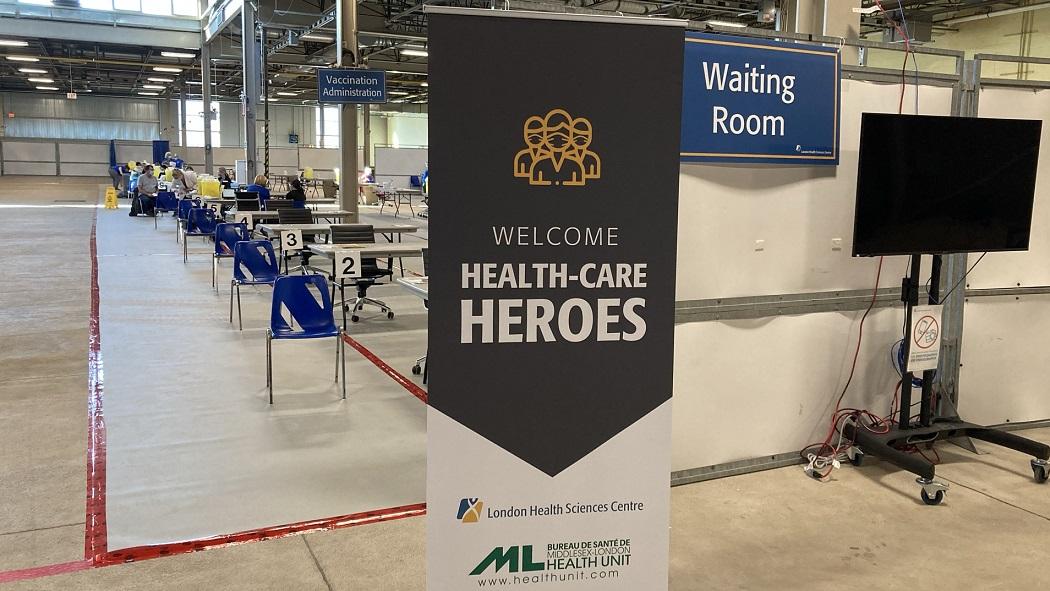 March 9, 2021
In December 2020, a team of professionals from London Health Sciences Centre (LHSC) and Middlesex-London Health Unit were tasked with launching one of Ontario's first COVID-19 vaccination clinics. Announced formally on December 18, the clinic opened only five days later at the Western Fair District Agriplex. The days between are a story of collaboration, dedication, and optimism as the team worked tirelessly to serve the community through this historical vaccination event.
"It took a large team and endless dedication to put the clinic together so quickly," says Julie Manning, LHSC Nursing and Clinical Manager at the COVID-19 Vaccination Clinic. "The major driving force was the collaboration with Middlesex-London Health Unit. They provided expertise for running a mass vaccination program and LHSC provided leadership in clinical services, information technology (IT), facilities, and logistics."
The LHSC Facilities Management team began work on the clinic on December 15 (a few days prior to its announcement), working closely with Western Fair District. While the 130,000 square-foot Agriplex was already home to LHSC's COVID-19 Field Hospital, there were still two thirds of the facility left unused. By the second day, the team had mapped out a design for the clinic and contractors were installing walls.
"After a few long days, we had a clinic that included screening and registration, waiting areas, vaccination stations, recovery areas, and a post-vaccine checkout station," explains Matthew Morneau, Project Facilitator with LHSC's Facilities Management. "With so many moving parts and an expedited timeline, this would not have been possible without collaboration across multiple teams."
Facilities Management worked closely with LHSC's Pharmacy team to transform an office space at the Agriplex into a functional pharmacy. Having a safe and secure location to receive vaccine was critical.
"There were many logistics to work out from the moment vaccine arrives at the Agriplex receiving door to the point where it's administered to a client," says Patricia Dool, Manager, Victoria Hospital Pharmacy at LHSC. "Some questions the Pharmacy team quickly addressed were: What do we do when the vaccine arrives to ensure security and storage at the correct temperature? What do we do to the dry ice it arrives with and how do we prepare it without wasting any doses?"
The Facilities Management team helped ensure the pharmacy was specially ventilated to keep staff safe from exposure to the dry ice while it sublimated. With the nursing teams from LHSC and the Middlesex-London Health Unit, the Pharmacy team developed a strategy to prepare and dispense doses to ensure no vaccine was wasted. They also prepared strategies for 24-hour monitoring of vaccine storage and management of any ultracold freezer issues.
"The Pharmacists and Pharmacy Technicians have been phenomenal. There was a lot of uncertainty in the early days and they were adaptable from practice runs to delivery of actual vaccine," notes Dool.
Through collaboration with LHSC's Infection Control and Prevention team, the facility was designed with health and safety measures in mind. Physical distancing is maintained through large corridors and one-way passage through the clinic.
IT infrastructure from the existing field hospital was leveraged to allow access to the hospital's network. The LHSC Facilities Management and Security teams collaborated to have the proper security equipment installed before the clinic's opening.
The network is key to running different software for scheduling, screening, and client data management. It also allowed for the implementation of a virtual waiting room where clients notify of their arrival from outside the clinic.
"Training staff on the software was an important part of getting the clinic ready and optimizing the flow of patients through it," explains Jeanette Fidler, LHSC Clinical Informatics Strategist. "We worked with a number of stakeholders to accomplish this."
Fidler credits the entire team for being nimble throughout the evolving project.
"What really hits me about this project is how everyone – from senior leaders to frontline staff – came together to support each other and respond to evolving needs. There was an incredible feeling of hopefulness around the project," says Fidler.
The collaborative team quickly expanded as staffing needs were identified and recruitment began for nurses, physicians, registration clerks, office assistants, greeters, security, and volunteers.
"We saw an incredible response from those wanting to help. We even have retired nurses and other staff members coming back to support our community," explains Manning.
Staff began training on December 21, two days before the clinic's opening.
"It was a team effort to ensure we had proper staffing and educational resources in place," notes Krista Shea, LHSC Professional Practice Consultant. "All staffing groups were integral."
The first vaccine was administered on December 23, 2020 – just one week after planning was initiated. The team has remained adaptable as the vaccination program evolves, and recently introduced an online self-scheduling booking option as the clinic continues to progress to meet growing community needs.
"It's been a grueling year for those in health care," reflects Shea. "It was an honour to be part of this team and work towards something that will hopefully contribute to the end of the COVID-19 pandemic."
"Health care workers in all sectors have been the embodiment of resiliency this past year. The opening of the COVID-19 Vaccination Clinic has been invigorating work for our teams as we know the vaccination program will make a significant difference in fighting the pandemic," adds April Mullen, Director of the COVID-19 Vaccination Clinic. "Our goal is to create a welcoming environment, ensuring our health care heroes and the community we serve have a positive experience in recognition of the difference they are making every day."
COVID-19 VACCINATION CLINIC QUICK FACTS
Opened: December 23, 2020
Western Fair District Agriplex: 130,000 square feet

LHSC COVID-19 Field Hospital: 43,000 square feet
COVID-19 Vaccination Clinic: 87,000 square feet

The clinic includes:

Six screening stations
Eight registration stations
One waiting room
21 vaccination stations
Four recovery bays
Five post-vaccination checkout stations
One pharmacy

The clinic's daily operations are made possible through the work of:

Nurses
Physicians
Pharmacists
Pharmacy Technicians
Registration Clerks
Office Assistants
Greeters – including a new Senior Friendly Greeter who helps our older population navigate the vaccination steps
Volunteer
Security
Leaders and physician partners across LHSC and Middlesex-London Health Unit