Children's Hospital in need of Knitters
August 27, 2013
Children's Hospital at London Health Sciences Centre is again recruiting knitters to knit or crochet purple baby caps in any pattern or shade of purple. The hats will be used to raise awareness about the Period of PURPLE Crying as part of the North American CLICK for Babies campaign.
In 2011LHSC first reached out to local knitters to help raise awareness about shaken baby syndrome and the leading trigger for infant abuse, frustration with infant crying. Knitters from London and surrounding area and from as far away as New York City and Sweden answered the call and donated a staggering 10,000 hats.
"The hats are handed to new parents by caregivers along with an information package aimed at educating and increasing awareness of shaken baby syndrome," says Lisa Wolfs, injury prevention specialist, LHSC. "At Children's Hospital we hand out approximately 500 hats to parents each year during the month of November. The remaining hats are sent to other health care centres so that they too can spread awareness."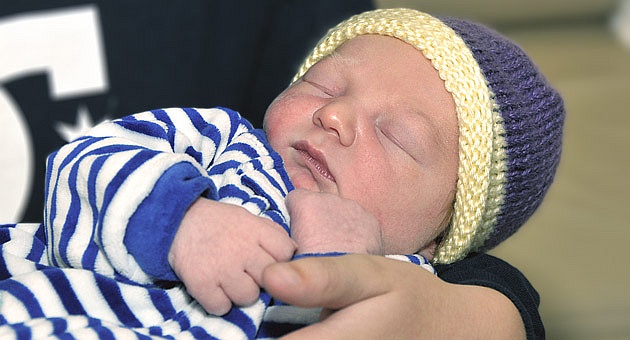 The campaign is a grassroots public education campaign organized by the National Center on Shaken Baby Syndrome (NCSBS) in partnership with hospitals, public health and child abuse prevention groups. All Period of PURPLE Crying initiatives at LHSC are supported by the Children's Health Foundation. Since the 2011, over 120,000 handmade caps have been donated and distributed to infants across North America.
Interested knitters are asked not to include strings, pom-poms or wool on the baby caps and ensure the caps are primarily purple in colour.
Completed caps can be mail or drop off by October 20, 2013 to:
Kelly Barzsa-Jenkins Reg.N., PNC(c)
Room D6-101
London Health Science Centre, Victoria Hospital
800 Commissioners Road E.
London, ON, N6A 5W9
About the Period of Purple Crying
The Period of PURPLE Crying is a way for parents to understand their baby's crying.  The word PURPLE is an acronym which reminds parents in an easy to remember way all of the characteristics of normal infant crying. The letters in PURPLE stand for:
Peak of crying – The baby may cry more each week, peaking at two months, and then less at three to five months.
Unexpected – The crying can come and go, with no explanation.
Resists soothing – The baby might not stop crying no matter what you try.
Pain-like face – It may look like the baby is in pain, even when they are not.
Long lasting – The baby might cry 5 hours per day or more.
Evening – The baby might cry more in the late afternoon or evening.