LHSC's president and CEO takes the ice bucket challenge
August 21, 2014
The ice bucket challenge became an overnight internet sensation this summer, raising millions of dollars and awareness for ALS (amyotrophic lateral sclerosis), often referred to as "Lou Gehrig's Disease."
"It's incredible that this simple premise has gone viral and raised awareness and money in support of ALS research," says Dr. Christen Shoesmith, medical director of the motor neuron disease (MND) clinic at LHSC. "Medical research is limited by funding, and increasing funding can help us find a cure. This challenge has created is a new general awareness about ALS that I have never seen before."
The challenge involves people getting doused with buckets of ice water on video, posting that video to social media, and then nominating others to do the same, all in an effort to raise ALS awareness. Those who refuse to take the challenge are asked to make a donation to the ALS charity of their choice.
After taking the ice bucket challenge as a group, the MND team nominated LHSC's President and CEO Murray Glendining to take the challenge, along with Dr. Paul Cooper, chair/chief of the Department of Clinical Neurological Sciences and Dan Ross, President of London Health Sciences Foundation. Bob McClinchey, a porter at LHSC's Victoria Hospital, also nominated Glendining.
Glendining accepted the challenge, and after making a donation directed towards supporting the ALS research conducted by LHSC's MND team, on Aug. 21 he took the ice bucket challenge alongside Dr. Cooper.
"I am very proud to help bring awareness for this cause, while supporting the tremendous work and research of our motor neuron disease team at LHSC," says Glendining. "This multi-disciplinary team continues to find ways to enhance care for the ALS patient population while conducting innovative research that will hopefully one day find a cure."
The Ice Bucket Challenge was created by the American ALS Association (ALSA), but people can also donate directly to LHSC's MND clinic though London Health Sciences Foundation to support research or to ALS Canada.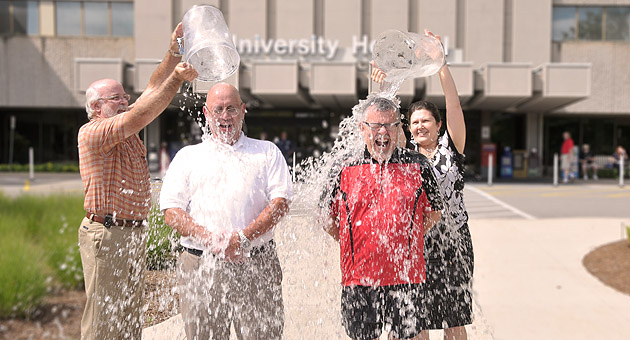 LHSC President and CEO Murray Glendining (left) was nominated to take the ALS Ice Bucket Challenge. In addition to making a donation directed towards ALS research at LHSC, Glendining took up the challenge alongside Dr. Paul Cooper, Chair/Chief of the Department of Clinical Neurological Sciences. Those who had the honour of dumping the water were Dr. Michael Strong (left), Dean, Schulich School of Medicine & Dentistry at Western University, and Dr. Christen Shoesmith, medical director of LHSC's motor neuron disease clinic.