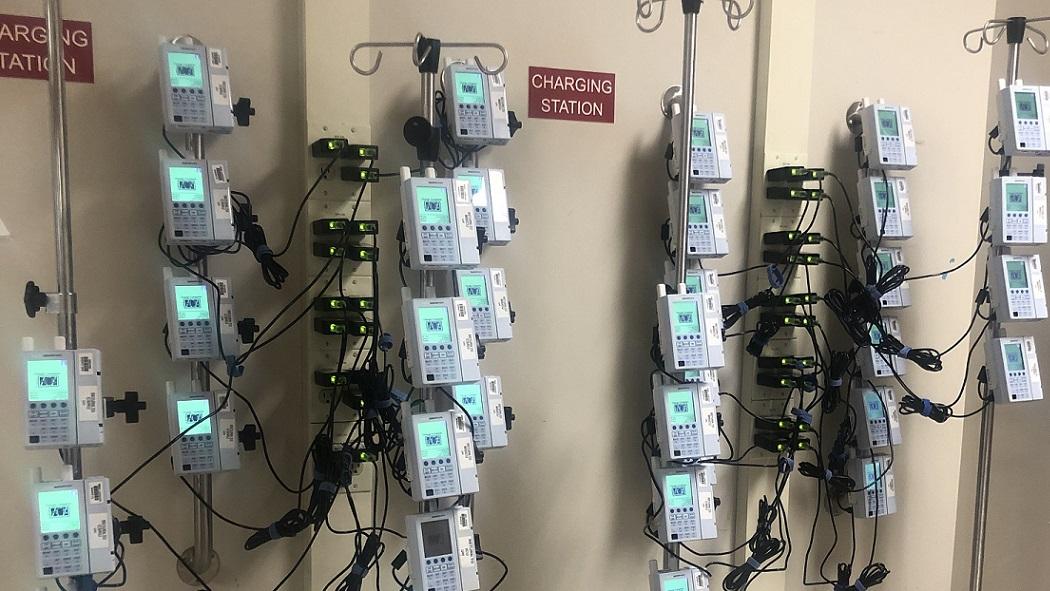 April 23, 2020
Charging some of the new Critical Care IV pumps purchased by LHSC to ensure capacity for COVID-19 patients.
Ensuring enough equipment is available and ready to use for COVID-19 patients
London Health Sciences Centre's (LHSC) Critical Care Unit is preparing for the potential rapid influx of COVID-19 patients by expanding their capacity from 69 to 184 beds. To accomplish this expansion, they are engaging internal and external partners to ensure space and equipment are available and ready to use when needed.
"This has required a whole hospital team approach," Dawna VanBoxmeer, Director of Critical Care says.
Expanding the capacity of the unit has required adding extra beds in designated areas at both University and Victoria hospitals. The Critical Care Unit has worked with multiple areas, including Biomedical Engineering, Infection Prevention and Control, ITS, Decision Support, Patient Access and Flow, Professional Practice, People and Culture, Surgical Care, Medicine, Sodexo, Security, Healthcare Materials Management Services (HMMS) and many more within LHSC to accomplish this.
"This expansion of Critical Care requires a redeployment of equipment as well as staff," Ms. VanBoxmeer says. Beds, for example are being redeployed from across the hospital including from the Surgical Care Unit for critical care patients. These beds are being tracked by the Biomedical Engineering team.
Helping expand the capacity of the unit are community partners who are providing support. Western University's Arthur Labatt Family School of Nursing and School of Physical Therapy have loaned 24 beds. Additionally, Fanshawe College has loaned ventilators and General Dynamics Land Systems-Canada has donated ventilators.
LHSC has also purchased more IV pumps and poles, beds, computers, glidescopes and ultrasound equipment to ensure operational capability.
Once the beds and other equipment are located, the supporting technological infrastructure is required. When patients arrive and are entered into the hospital's electronic system, bed numbers are used in ordering tests, prescriptions, nutrition and procedures. The ITS department was engaged to help ensure the more than 100 new beds were included in the electronic system, explains Ms. VanBoxmeer.
"Both internal and external partners have come together to help Critical Care prepare and for that, the critical care program is truly grateful. We're all in this together for our patients," says Ms. VanBoxmeer.
Preparing LHSC's Critical Care Unit for a potential rapid influx of COVID-19 patients has been a complex plan with many components including increased space and equipment.