LRCP recognizes Childhood Cancer Awareness Month
September 27, 2013
September is Childhood Cancer Awareness Month, and the Paediatric Radiation Therapy team at the London Regional Cancer Program (LRCP) did their part recently, helping to raise awareness and donations through a week-long series of events.  
The campaign kicked off with an awareness display in the atrium of LRCP highlighting the various programs and services at the centre, as well as support programs available for children and families in the community.
Later in the week, the team held a bake sale for staff and friends on the third floor of the centre, while down in the atrium Artisan Bakery was hosting a sale of their own, offering fresh baked cookies to patients and visitors for $2 apiece. The bakery donated 200 of the jam-filled creations to the hospital for the sale. The proceeds from these two sales - $1170 to be exact – were directed to the LRCP paediatric patient fund which is used to help make the radiation program a less scary place for children by offering child-friendly activities and surroundings, and even gifts when treatments come to an end.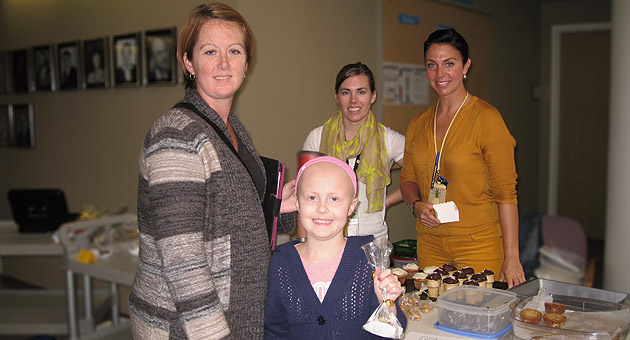 LRCP patient Maya Hulme and her mom Jenn buy treats from radiation team members Meghan Lewis (left) and Jessica Csoborko (right)
Proving that radiation therapists love their baking, two days later, the team hosted a 'cake off' where staff were asked to bring in home baked cakes to be raffled off also in support of the paediatric patient fund.  Melrose Bakery also donated a cake for the event, with final donation totals for this event coming to an incredible $878!
The week was rounded out by the annual Childhood Cancer Awareness Symposium hosted by LHSC and sponsored by the Paediatric Oncology Group of Ontario (POGO). This year the one day symposium for nurses, allied health and physicians caring for paediatric oncology patients focused on paediatric brain tumours.
See more photos of the team's activities to recognize Childhood Cancer Awareness.