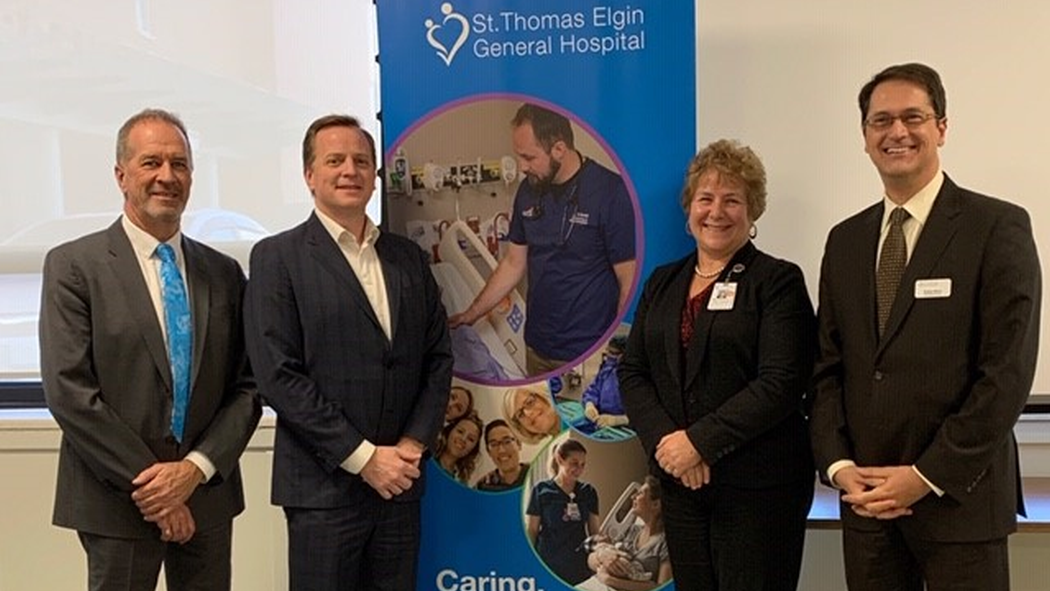 From left, Dr. Paul Woods (President and CEO, LHSC), MPP Jeff Yurek, Dr. Gillian Kernaghan (President and CEO, St. Joseph's Health Care London), and Robert Biron (President and CEO, St. Thomas Elgin General Hospital) at the funding announcement.
On December 18, the Hon. Christine Elliott, Deputy Premier and Minister of Health, announced that Ontario is investing $175 million for repairs and upgrades to 131 hospitals this year through the Health Infrastructure Renewal Fund (HIRF), part of a plan to invest $27 billion in hospital infrastructure over the next ten years.
Locally, MPP Jeff Yurek announced that London Health Sciences Centre will receive $6,687,878 as part of the HIRF funding. Funds were also announced for St. Thomas Elgin General Hospital and St. Joseph's Health Care London.
"These investments will help ensure that patients in London-St. Thomas can receive the care they need in a safe and comfortable setting," said MPP Yurek. "This funding will help ensure that hospitals across Ontario are able to make the needed upgrades and improvements, so patients and families have access to the reliable, quality care they expect and deserve."
LHSC thanks the Government of Ontario for this investment in health care. Providing high-quality care is LHSC's top priority, and infrastructure funding helps to ensure patients receive care in well-maintained spaces.
"The commitment of the government to patient care through this announcement is appreciated as the funding allows us to complete necessary infrastructure projects, such as elevator upgrades, replacing medical systems and replacing back-up generators. These projects support us in continuing to provide the high-quality care our patients and their families deserve," said Dr. Paul Woods, LHSC's President and CEO.